Pharmaceutical CEO Martin Shkreli has threatened to break the world's only copy of Wu-Tang Clan's latest album if democratic nominee Hillary Clinton wins the election. Shkreli, 33, became the sole owner of the hip hop group's Once Upon A Time In Shaolin album after shelling out a reported $2m (£1.65m) in December 2015.
Ahead of the US presidential election on 8 November, Shkreli revealed his plans to leak unreleased material he claims to own from both The Beatles and iconic grunge band Nirvana if Republican candidate Donald Trump is voted into the White House.
Shkreli tweeted yesterday (27 October): "If Trump wins, my entire unreleased music collection, including unheard Nirvana, Beatles, and of course, Wu-Tang, comes out, for free." When a Twitter follower suggested that Shkreli just release Wu-Tang Clan's album if Clinton trumps her rival, Shkreli threatened: "Or break it."
The controversial businessman then started a live-stream via Twitter, during which he claimed to play previously unheard music from The Beatles catalogue.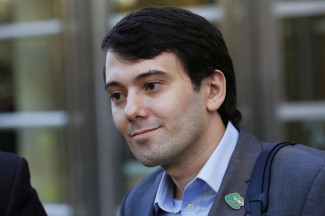 Shkreli publicly endorsed Trump, 70, in May 2016, telling his Twitter followers: "I haven't been called by the Trump camp. I support him vs. Hillary. He should find a VP candidate who is seasoned in politics, an ugly game." When asked if he would ever consider running for president himself, Shkreli replied: "No, I love my country too much. My gifts to the world belong in private service, not public."
The New York native has become one of the most vilified public personalities after his company Turing Pharmaceuticals bought up Aids drug Daraprim and increased its price by 5,556% from £10 to £577. He became a hate figure again this year when he offered to pay Kanye West $15m to become the sole owner of the rapper's Life Of Pablo album.
Explaining why he bought the Wu-Tang Clan album, Shkreli told Power 105.1's Breakfast Club in February: "There's a lot of things rich guys do to show off. The press thing is a part of it, but it's also to show your friends, or your last company, like, 'Hey, f**k you, look at me, I got this $2 million album.' Guys do that all the time."
There is no love lost between Shkreli and Wu-Tang Clan as the businessman was previously embroiled in a feud with rapper Ghostface Killah. Responding to a verbal attack from Shkreli, Ghostface said in February: "You a fake supervillain. You gon' come at me after you done bought a Wu-Tang album for $2 million? Acting like we washed-up rappers? Like I'm a washed-up rapper?"