United States president Barack Obama and residents of the Falkland Islands have sent tributes across the Atlantic Ocean after hearing of Baroness Thatcher's death.
On the Falklands, her death from a stroke was met with deep sadness by residents who hailed her "number one" for her role in repelling the invasion by Argentine troops in 1982.
Obama praised her as a shaper of history who had helped bring down the Berlin Wall and end communism with then president Ronald Reagan.
Mike Summers of the Falkland Islands Assembly said: "It is with great sadness that we received news of the death of Baroness Thatcher. She will be forever remembered in the islands for her decisiveness in sending a taskforce to liberate our home following the Argentine invasion.
"Our sincere gratitude was demonstrated in 1983 when she was granted the Freedom of the Falkland Islands. Her friendship and support will be sorely missed, and we will always be thankful for all that she did for us. The thoughts and deepest sympathies of all Falkland Islanders are with her family and friends at this sad time."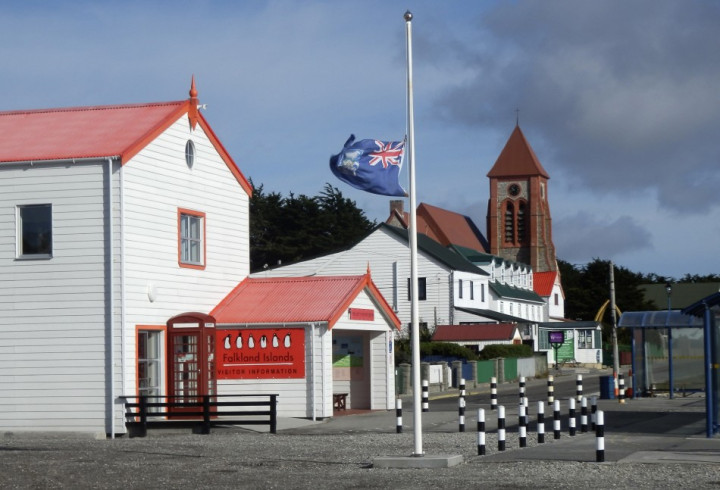 "With the passing of Baroness Margaret Thatcher, the world has lost one of the great champions of freedom and liberty, and America has lost a true friend," said Obama. " As a grocer's daughter who rose to become Britain's first female prime minister, she stands as an example to our daughters that there is no glass ceiling that can't be shattered.
"As prime minister, she helped restore the confidence and pride that has always been the hallmark of Britain at its best. And as an unapologetic supporter of our transatlantic alliance, she knew that with strength and resolve we could win the Cold War and extend freedom's promise.
"Here in America, many of us will never forget her standing shoulder to shoulder with President Reagan, reminding the world that we are not simply carried along by the currents of history. We can shape them with moral conviction, unyielding courage and iron will.
"Michelle and I send our thoughts to the Thatcher family and all British people as we carry on the work to which she dedicated her life - free peoples standing together, determined to write our own destiny."
Falkland Islander Rosie King told the Guardian what Thatcher meant to her.
"She was probably the number one person in our history. We received this news with great sadness even though it was expected because we knew she was very poorly," said King.
"I met her on a street corner and we chatted very comfortably. It wasn't like she was a big world leader. She wasn't as harsh as she was portrayed and she was smaller than I imagined. It was one of the most memorable moments of my life."
READ:
Margaret Thatcher Quotes: Online Tributes Pour in with Tebbit, Cameron and Mensch Leading the Way [VIDEO]
Margaret Thatcher Quote, Unquote: How the Iron Lady Defined a Political Ideology [VIDEO]
Margaret Thatcher Obituary: Thatcherism Defined 20th-Century Politics and Protest
Thatcherism a Debate That Rages on: Margaret Thatcher's Economic Legacy [VIDEO]
Margaret Thatcher in Movies: From Young Margaret to Iron Lady [VIDEO]
Margaret Thatcher Dead at 87: Life in Pictures of Britain's First Female PM [VIDEO+PHOTOS]