The Fall: Spoilers and everything you need to know as Paul Spector returns to our screens
Series 3 begins tonight (29 September) on BBC2.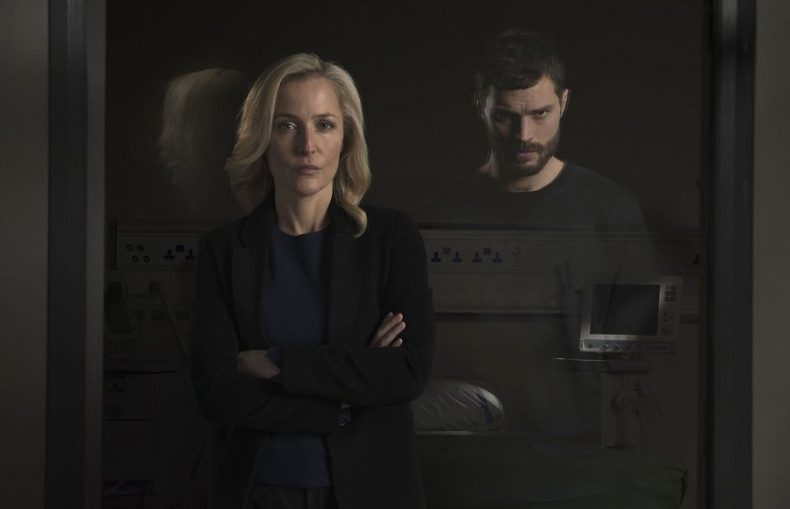 If you have plans, cancel them. The Fall is back tonight – the Northern Ireland-based dark thriller, starring Jamie Dornan and Gillian Anderson, that gripped the nation with its cat and mouse theme between a senior detective and a serial killer.
The third and apparently final series is to be welcomed with open arms as the last time we saw murderer Paul Spector (Dornan), he was lying on his back and bleeding an awful lot after being shot by James Tyler (Brian Milligan). Jealous James and his wife Liz received therapy from Spector in series one to help them cope with the loss of their son Daniel – who died at the age of ten from meningitis. James suspected that Spector was having an affair with his wife.
Though we can't give too much away (IBTimes UK attended the first episode screening and Q&A with Dornan and Anderson), Spector is left in the hands of the staff at Belfast General Hospital battling to save his life. We doubt viewers have forgotten Detective Superintendent Stella Gibson (Anderson) almost sentimentally cradling Spector in the series 2 finale while yelling, "We're losing him!"
Preview of The Fall Series 3 Episode 1
The shooting and news of Spector's situation hits the news and his young partner-in-crime, Katie, plots to help him. Resultantly, the first episode of the new series is not short of action and drama. Our favourite Belfast strangler is gripping on to life but is unconscious – and his mind is imagining himself walking towards a light in a dark tunnel. Cliché maybe, but it works. Anderson's character is as calm and collected as ever – but her world is soon hanging by a thread. Her bosses are also worried that there is a "media feeding frenzy" – so we'll see how she copes with that.
The BBC announced that they commissioned a new five-part series of the psychological thriller earlier this year, but the future of the hit programme is unknown.
The Fall returns tonight (29 September) at 9pm on BBC2.
The Fall Series 3 trailer