The hairs on the back of our necks stood up when the trailer for the sew series of The Fall aired before Bake Off last night (14 September). We almost coughed out our bite-sized caramel slices in delight.
The drool-worthy Jamie Dornan and Gillian Anderson will brighten our autumn as they are set to return to the small screen for the third round of the crime thriller series that has captured the imagination of the nation.
DSI Stella Gibson (Anderson) and the sociopathic, yet irresistible Paul Spector (Dornan) will go head-to-head once again in the hit drama — but will the killer recover from his devastating gun wound that left us all hanging on the edge of our seats during the series two finale?
Fans were left biting their nails in despair the last time they saw Spector; the last episode finished with him lying motionless on the floor and bleeding an unhealthy amount. We could barely take our eyes off the television screen as Spector lay in the arms of Detective Superintendent Gibson after being caught for his string of murders.
The official Twitter account for BBC2 announced that the critically acclaimed show will be back in business on the 29 September, so keep your eyes peeled and your schedules clear on that evening for a major Dornan dosage.
In the series three preview Gibson can be heard telling the doctors who are trying to save Spector: "I want him to live, so that he can spend the rest of his life in prison." Gibson's feelings towards the killer are also questioned in the new series.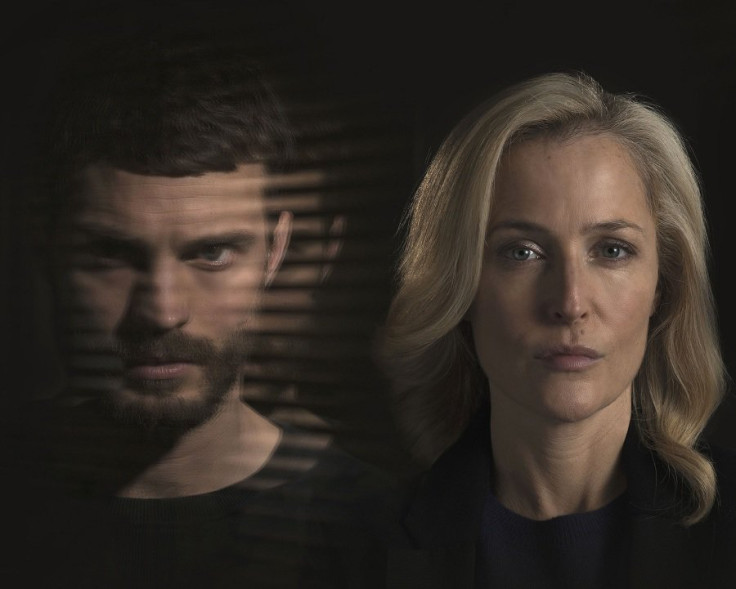 IBTimes UK went along to the screening and press Q&A with Dornan and Anderson last week, and though sworn to secrecy with regards to spoilers, we can vouch it is a belter.
The Fall will return with five episodes which will "bring the story to a close" according to the show's producers. Writer and director Allan Cubitt said: "The cliffhanger ending of season two was conceived in the hope of further exploring the characters and the themes that are at the heart of The Fall."
The Belfast-based show has been a huge success ever since its 2013 debut, and it was Dornan's first major role before he found international stardom as Christian Grey in the film adaption of Fifty Shades of Grey.