Family Guy's Peter Griffin Channels Rihanna in 'Naked Dress' Picture
Rihanna: 'He gets it'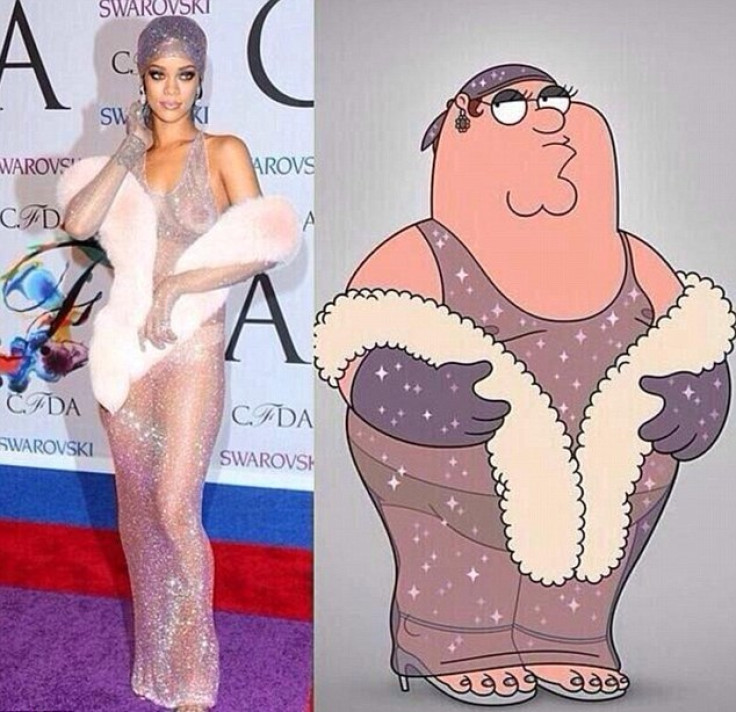 Rihanna proved she has a sense of humour, after finding herself in a fashion face off with Family Guy's Peter Griffin.
The 26-year-old star caused a frenzy as she made her entrance in a near naked sparkling dress at the Council of Fashion Designers of America Awards.
Exposing her breasts and her bottom, her perfect curves were clearly on display for all to see in the controversial couture gown.
And while few others would dare to step out in Rihanna's outfit, its seems Family Guy's Peter Griffin has got what it takes.
The creative team at Family Guy sought inspiration from the singer, recreating the show stopping ensemble for Peter- complete with head scarf, gloves, strategically placed pink fur and nude coloured underwear.
Posting a picture comparison of the pair, Rihanna brushed off the criticism of the dress that had everyone talking, saying: "He gets it."
The star - who received the Fashion Icon award at the CFDA's revealed in her acceptance speech that fashion was her way of expressing herself.
"Growing up I didn't have a lot of access to fashion. But, as far as I could remember, fashion has always been my defence mechanism. Even as a child I remember thinking, "She can beat me, but she cannot beat my outfit." And to this day I mean, that is how I think about it. I can compensate for all my weaknesses with my fashion," she said.
"I think fashion has been an outlet for me to express myself, to speak up, to say who I am and to be very loud about it at times, and I just like to have fun with it... There are RULES! But rules are meant to be broken," she added.
The "naked" dress was created by designer Adam Selman, who hand applied more than 230,000 Swarovski crystals.
Selman has worked with Rihanna for some time but revealed he feared he may have pushed things a bit far with this dress.
He told Style.com: ''We definitely wanted to make it a little bit scandalous. The dress is just fishnet and crystals and a couple of fingers crossed. But fashion is about beauty, and the [female] body is part of that."
© Copyright IBTimes 2023. All rights reserved.