The family of jailed 'Lady al-Qaida', whose release has been demanded by Isis extremists, have implored the terrorist organisation to free two British hostages.
Dr Aafia Siddiqui, from Pakistan, was imprisoned in 2010 for the attempted murder of several US Army officers and FBI agents.
But on Saturday her sister, neurologist Dr Fowzia Siddiqui, pleaded for the terrorist group to show mercy to Manchester aid worker Alan Henning and photojournalist John Cantlie. Siddiqui said her sister would not want innocent hostages to be killed in her name.
"She [Aafia] would be distraught if she knew that there are people bragging about murder and mayhem and using her name to justify it", Siddiqui told the Daily Telegraph.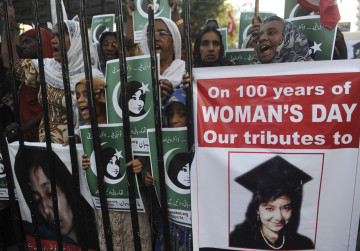 "She would also be praying for the victims and their families. Aafia is one of too many people around the world who understands the toll that injustice demands from all of us."
Isis (now known as Islamic State) called for the release of Dr Aafia Siddiqui last month, as a condition for sparing the life of US journalist James Foley.
The group also made demands that included removing the US military from Iraq and a ransom of $132m (£141.8m, €180m). Foley was beheaded when the demands were not met by the US government, and a video depicting his death was uploaded to YouTube by the organisation.
Lady al-Qaida
Aafia Siddiqui, an American-trained neuroscientist, has been heralded by Islamic State militants after she was jailed for 86 years for attempting to shoot US military personnel.
The incident occurred when two US FBI agents, a US Army Captain and Warrant Officer, and their interpreters, were interrogating Siddiqui after she was detained in Afghanistan as a suspected al-Qaida operative in 2008. One of the US personnel disarmed Siddiqui before another shot her.
Siddiqui's family and the Pakistani government supported Siddiqui throughout her trial. Siddiqui has maintained that she did not attempt to shoot anyone, and that she was shot by the US personnel without provocation during the interrogation.
Her sister said the Siddiqui family could not accept that "someone else's daughter or son, sister or brother" is suffering "like Aafia is suffering".
She also called for Islamic State to "opt for a path of mercy" and free all prisoners.
The comments come as three high-profile British Muslims have recorded a YouTube video urging Islamic State to release hostages Henning and Cantlie, warning them that executing innocent aid workers is prohibited by Sharia law.
Meanwhile, Turkey announced on Saturday that 49 of its nationals who had been seized by Islamic State in Iraq have been freed and safely returns to their country. The hostages were taken from the Turkish consulate in Mosul, Iraq on 11 June, when Islamic State militants overran the city.