Isis Protests: German Muslims Demonstrate Against Islamic State 'Murderers'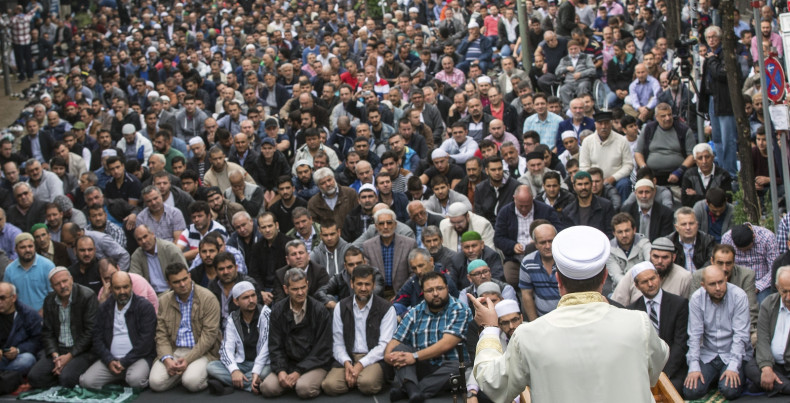 Thousands of German Muslims have protested against the Islamic State (formerly known as Isis) extremist group in a day of nationwide demonstrations.
More than 2,000 mosques took part in the "Day of Peace", holding vigils and peace rallies after the traditional Friday prayers to voice their dissent against the violent Islamist militants who have declared a caliphate in the Middle East claiming to represent all Muslims.
The head of Germany's Central Council of Muslims, Aiman Mazyek, said that IS jihadists are "terrorists and murderers who have dragged Islam into the mud and brought hatred and suffering to the people, including to their fellow Muslims, in Syria, in Iraq and elsewhere."
Writing in Germany's top-selling tabloid Bild, Mazyek said he expected Germany's approximately 4.5 million Muslims to speak up when their faith was used to commit atrocities.
"We want to make it clear that the majority of Muslims here in this country and worldwide think and act differently," he wrote. "Islam is a peaceful religion."
The event, also directed against racism and intolerance in general, was organised by Germany's four mainstream Muslim organisations, with demonstrations held in numerous cities including Berlin, Hamburg, Frankfurt and Stuttgart.
The president of the Central Council of Jews in Germany, Dieter Graumann, welcomed the initiative.
"It is good that Muslim associations are putting up a fight against the terrorism of fanatical Islamists," Graumann told Deutsche Welle.
Germany's domestic security agency said that almost 400 German nationals have travelled to the Middle East to join the jihad.
Last week the government launched a crackdown on home-grown radicals supporting the group that beheaded two US journalists and a British aid worker in recent weeks.
Earlier today, federal prosecutors charged three German nationals with supporting IS, including the wife of a suspect islamist fighter.