Nigel Farage has advised the British government to look past "their personal animosity" towards him as he offered to help build ties with Donald Trump. He also warned the government it is in the "national interest" to "have a constructive conversation" with him on this.
The Ukip leader's comments came as he became the first UK politician to meet with the US President-elect. Farage met with him at the Trump Tower in New York on Saturday (12 November) and described Trump as an Anglophile, but hit out at British lawmakers who were critical of him during his political ascent.
"Very senior staff members there were rude about Trump in the campaign," he said. "I do think that just too many members of this government said too many nasty things about the President-elect, and I think there has to be a mending of fences."
Worryingly for the government, Farage's popularity is rising Stateside and he is increasingly being seen as an ambassador figure. Insisting that he is ready to help build relations with a Trump administration, Farage said: "If I'm wanted by anybody in London to help, I will help."
According to Trump's campaign manager, Kellyanne Conway, the President-elect met with Farage inside his residence. "I think they enjoy each other's company, and they actually had a chance to talk about freedom and winning and what this all means for the world," Conway said.
Farage also called on the UK to pounce on the chance to make deals following the decision to leave the EU. "We are living now in Brexit Britain," he said.
"It gives us phenomenal new global opportunities, and one of the first places we should start is right here, after the inauguration in January." Unlike Barack Obama, who Farage appeared to suggest had damaged the "special relationship", Trump is an admirer of the UK.
"There's a real opportunity here," said Farage. "Not only President-elect Trump, but his whole team is Anglophile.
"They like our country, they recognise what we've done together in the past, and they're coming into this with an incredibly positive view. We need to seize the day."
However, Tory MP Crispin Blunt rebuffed Farage's offer to the government. Speaking to the Andrew Marr Show, the Chairman of the Foreign Affairs Committee said: "There is fantastic opportunity for a relationship between Britain and the United States – there's no need for Nigel. The prime minister has been very reserved and wise in having been guarded in her comments about Donald Trump right from the beginning, unlike many."
"Our foreign secretary is so wonderfully charming and entertaining, he can get away with the row-back," he added.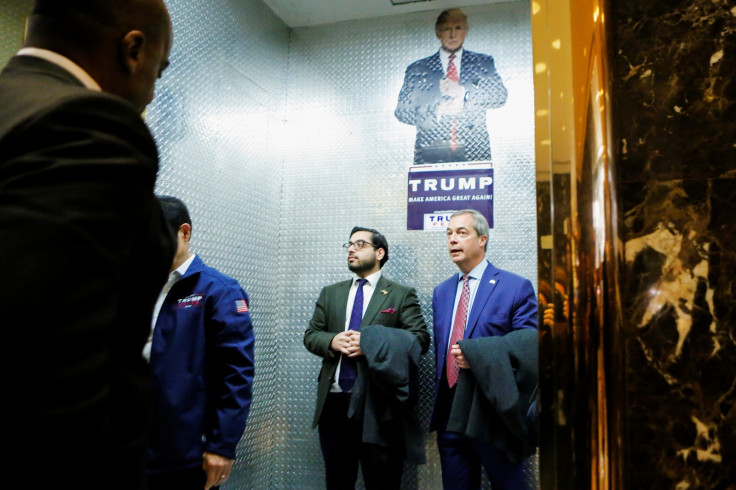 Prime Minister Theresa May spoke to Trump in a telephone call last week following his stunning election victory. A Downing Street spokesman said the pair agreed that the "special relationship was very important and very special, and that building on this would be a priority for them both."
May is planning to visit the President-elect in the first three months of 2017. Trump is set to take office in January.