Farc rebels and Colombian government to sign historic peace deal ending five-decade war
The ceremony will be attended by 2,500 dignitaries including Raul Castro, Ban Ki-Moon and John Kerry.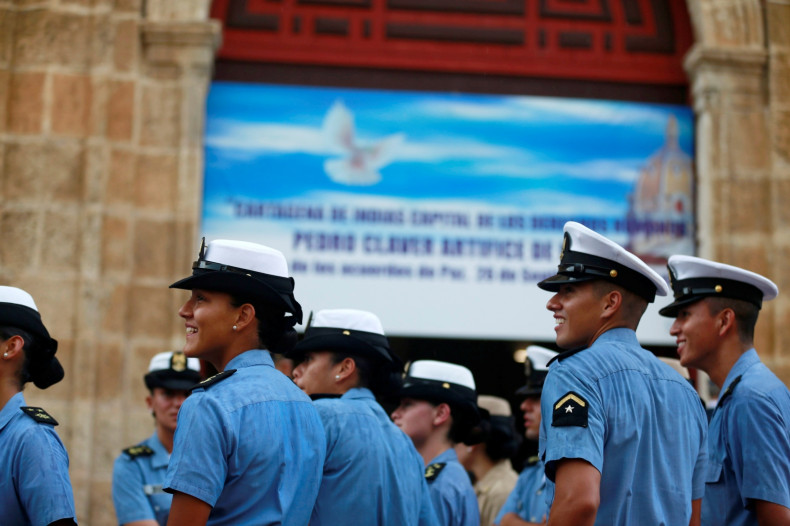 The Colombian government and the country's largest rebel group, the Revolutionary Armed Forces of Colombia (Farc) will sign a historic peace agreement on Monday, (26 September) that will put an end to a war that has lasted half a century and claimed at least 220,000 lives. President Juan Manuel Santos and Farc rebel group leader Timoleon Jimenez will sign the pact.
President Santos in an interview to BBC said that peace with the rebel group will bring economic growth. However, he added that it would take a long time for the country to recover from decades of conflict.
Santos said: "War is always more costly than peace. We could have grown between 2% and 3% more per year for the past 23 years,"
"We have even lost our compassion, which is the ability to feel some kind of pain for others.A country at war for 50 years is a country that has destroyed many of its values," he added.
The agreement is chance for the Farc group to become a political party. They will be given 10 seats in the 268 member congress. Once the deal is signed, the group will also be removed from the European Union's list of terror organisations.
Around 2,500 local and foreign dignitaries will attend the ceremony, which being held in the city of Cartagena. The dignitaries include the Cuban President Raul Castro, UN Secretary General Ban Ki-Moon, US Secretary of state John Kerry among others.
The signing ceremony is not the final step in the process. Colombian citizens will have the final say in accepting or rejecting the deal in a referendum that is scheduled to take place on 2 October. Most opinion polls suggest victory for the yes vote.
Under the deal terms, the rebels who will put their weapons down and confess to their crimes will be spared jail time and will be allowed to compensate their victims by undertaking development work in areas which are hit the hardest by the conflict. The deal has, however, invited criticism from former president Alvaro Uribe, as it allows the rebel group to enter congress without serving any jail time for the crimes they committed.
Colombians were apprehensive over how almost 7,000 rebels would integrate into the society but most expressed confidence that the deal would bring more positives than problems. The group will handover the weapons to the United Nations in 180 days.