The Revolutionary Armed Forces of Colombia, better known as Farc, is holding its last conference as a rebel army. The Marxist guerrilla group plans to transition into a political movement following the signing of a peace deal that will bring to an end to half a century of conflict, which has killed more than 220,000 and displaced millions.
This is Farc's 10th conference and the first not held in secret. Hundreds of journalists have been invited to cover the encounter, although access to the deliberations themselves is restricted.
AFP's Luis Acosta visited their camp to record this historic event and to photograph Farc members, both male and female, many dressed in the Latin American revolutionary uniform of army fatigues, berets and Che Guevara T-shirts. Most have never known anything other than the armed fight against the system. One has to wonder what will happen to them once they become part of the system.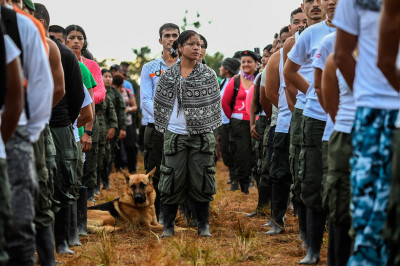 Instead of discussing battlefield strategy, Farc must settle on a new name for their political movement and deliberate on who it wants to represent it in 10 specially reserved seats in congress created for the group in exchange for laying down its weapons.
For days this makeshift camp has been buzzing with activity as rebels hastily constructed structures to house their comrades arriving on the backs of pick-up trucks, with pet dogs and parrots in tow, by way of a long, treacherous dirt road. For many rebels who've spent their lives in the jungle, the meeting is also an opportunity to be reunited with comrades and family members, some of whom they hadn't seen for years.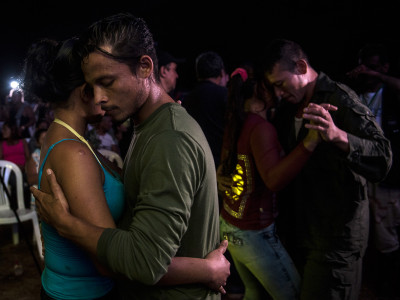 Farc's top leader, Rodrigo Londono – known by his nomme de guerre Timochenko – addressed the mostly unarmed and semi-uniformed guerrillas who had arrived from all parts of Colombia to attend the meeting. Speaking from a giant concert stage, dropped in the middle of southern Colombia's plains, the bearded leader told the guerrillas that in pursuing peace there are neither victors nor vanquished.
"If our adversaries want to boast they won the war, that's up to them," Timochenko said in his inaugural address, surrounded by all seven members of the Farc's secretariat, its top decision-making body. "For Farc, our greatest satisfaction will always be that peace has won."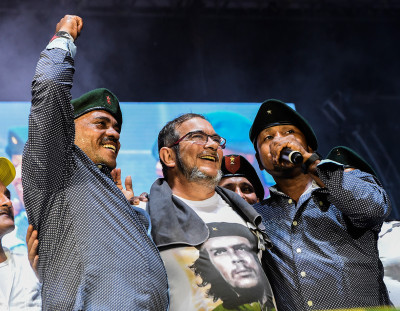 Timochenko and President Juan Manuel Santos are expected to sign the peace agreement on 26 September in Cartagena. A week later Colombians will be asked to ratify or reject the deal in a referendum. Polls show it is expected to overwhelmingly pass.
While Farc may find an electoral foothold among poverty-stricken farmers and committed leftists, many Colombians are wary the ex-fighters will join crime gangs or smaller rebel groups such as the National Liberation Army. Santos, who has staked his legacy on peace, has launched a campaign to convince Colombians to back the accord but he faces fierce opposition from powerful sectors of the country who believe the only solution is to finish the Farc militarily. Many are angered that the Farc leadership will not serve jail time, and are worried they will seek to convert the traditionally conservative nation with its Marxist ideals.