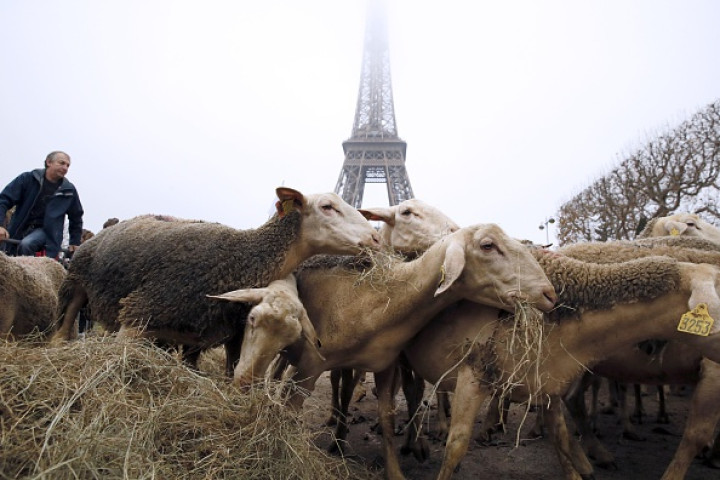 French Farmers, along with some 300 sheep, flocked to the Eiffel Tower on Thursday (27 November) in protest at the increasing attacks by wolves, which they claim have been "overprotected" by the government.
While one protester was seen dressed as a wolf carrying a lamb, another banner read: "Today farmers, tomorrow unemployed."
Under grey skies, while the farmers demanded more protection for their sheep through an effective plan to halt the wolf attacks, animal rights activists pressed on the wolves to be protected, reported France24.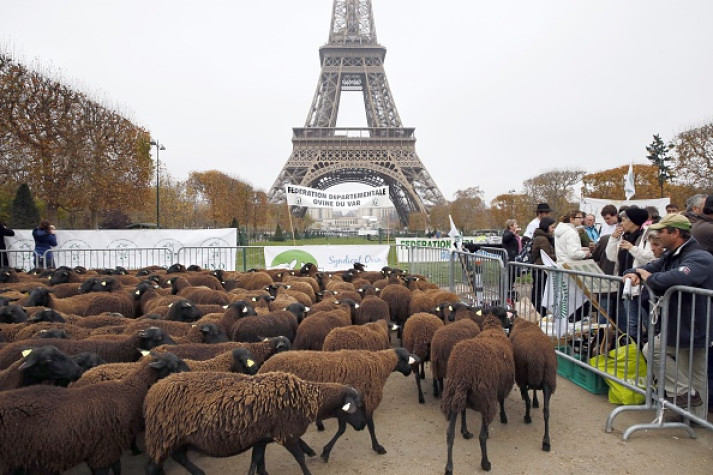 Following the protests at the French capital's most loved monument, protesters had plans to move towards the Agriculture ministry to meet Agriculture Minister Stephane Le Foll, along with a few sheep.
French farmers are demanding increased rights to cull the wolves due to their rising population.
Serge Preveraud, president of the National Ovine Federation, said: "We wanted to show authorities how absurd the wolf is. And since we can no longer protect our flock, we are going to ask the government to keep them."
There have been an estimated 4,800 wolf attacks, mostly on sheep, as per figures from August 2014, which is an increase of 1,000 from the same time frame last year.
Claude Font, head of a sheep farmers' organisation from Auvergne said: "There is nothing natural about being eaten by wolves. We are against wolves from the moment they attack our farms."
So far, an estimated 24 wolves were ordered to be culled for 2014-2015.
Wolves have been protected after they were hunted to nearly extinction in the 1930s.
"[It's] an enormous daily stress... it is omnipresent and oppressive, farmers around me feel helpless. Those who wanted to overprotect them are going to kick themselves. The wolf reproduces and moves around very fast," said Claire, a farmer from Drome in southeast France.
France's Environment Minister Segolene Royal understands the stress saying: "The damage to herders has become too great. The distress of the farmers and their families should be better taken into account."