Faryal Makhdoom debuted her burgeoning baby bump on Instagram as she rebuilds her life following her very public marriage breakdown from British boxer Amir Khan in August.
The 26-year-old entrepreneur wowed her 812K Instagram followers by showing off her bump of three months in a sequin embellished pink gown featuring a high-neck design by Nazz Collection.
Holding onto her stomach, the American-Pakistani single mother – who married Khan in 2013 until their separation earlier this year – sported a defined make-up look of smoky eyes while wearing her raven hair in a straight style.
She captioned the shot: "Bumpin' it #3months
Dress by- @nazzcollectionclothing
Makeup- @creatives.makeup.academy
Hair by- @hair_by_charlotte", keeping the focus on her evening look.
Fans were quick to comment on the post, which was taken at the Hilton Manchester Deansgate Hotel, with one person telling her: "This little bump is sooo cute.."
Another commented: "That dress is amazing! Bump is beautiful ❤️❤️" while a third added: "Motherhood is a precious gift. Please enjoy it."
Some fans were confused about the pair's relationship status on Makhdoom's latest baby bump snap, with one follower stating: "Guys I'm confused and not trying to be offensive. Just wondering since I've been out of the loop, are her and amir back together again if they're having another baby together?"
Another asked: "Is she not with her husband anymore?"
Despite being three months pregnant with her second child with Khan, the pair announced they had parted ways in August, with the boxer spelling out the break-up in a series of tweets.
He told his followers: "Thanks to Faryal for clearing up the accusations she had made about my family in the past which were false".
He added: "Unfortunately it didn't work out between Me and Faryal and we are still going ahead with the divorce. We are in good talking terms.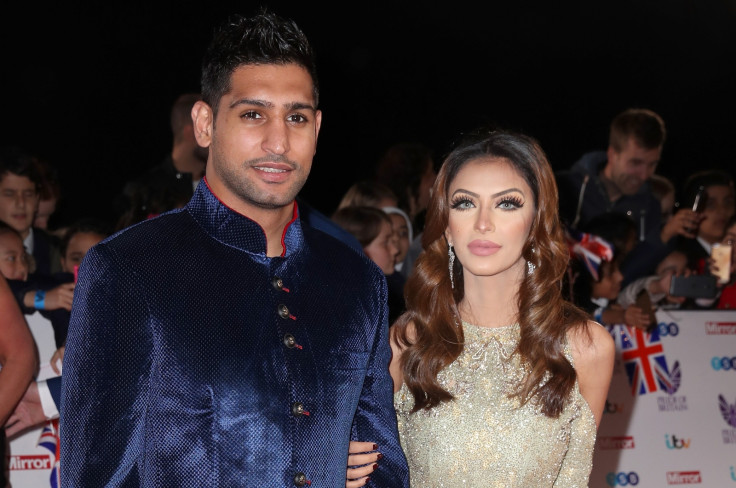 "We have to think about our daughter Lamaisah who I will always be there for. I wish Faryal all the very best for the future," he continued.
Makhdoom has since thrown herself into promoting her new line for her eponymous make-up company Faryal Cosmetics along with endorsing products on social media.
She came under fire this week for failing to disclose Instagram posts as paid advertisements on a Base Lift dermaroller and a teeth whitening kit for Denteto, despite admitting to having five veneers.
One fan said: "Where is the hashtag AD!!! Honestly" while someone else put: "I almost got it... if it's an #AD. She should announce it ..."