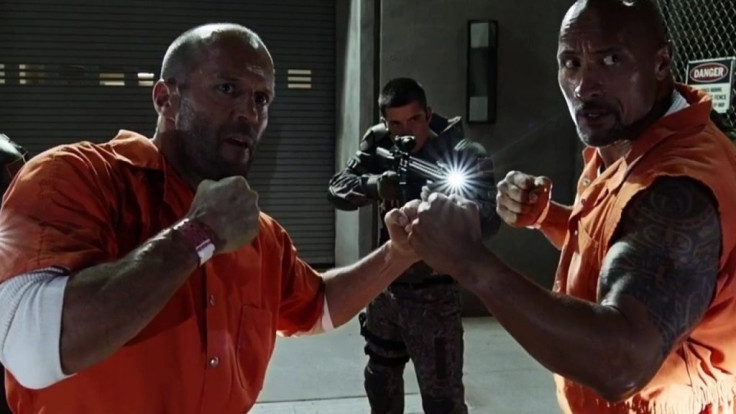 Universal Pictures has confirmed that a Fast and Furious spin-off starring Dwayne 'The Rock' Johnson and Jason Statham will be released in 2019, confirming the reason why Fast and Furious 9 has been pushed back until 2020.
The announcement comes following actor Tyrese Gibson's social media rant against The Rock, who he blamed for the delay. "#FastFamily right? Nah... it's about #TeamDwayne #3yrs will it be worth the wait?" he wrote.
Starring Johnson as Hobbs and Statham as Deckard Shaw, the spin-off is being written by franchise regular Chris Morgan and is set to be released on 26 July, 2019.
"Fast and Furious is one of Universal's most beloved properties, and we handle every decision we make surrounding this franchise with great care," Universal Pictures chairman Donna Langley told The Hollywood Reporter.
"The global brand of Fast & Furious is strong and full of iconic characters, and we look forward to continuing to build on the film that started it all, as well as expanding into different narratives beginning with our first spin-off."
The idea of a spin-off starring the two characters has ruffled the feathers of fans, given Statham's character murdered fan-favourite Han at the end of 2013's Fast & Furious 6.
He was the villain in 2015's follow-up but sided with the series' anti-heroes in The Fate of the Furious earlier this year. His chemistry with The Rock was a highlight of the film, fuelling speculation that a spin-off was in the pipeline.
The film has ruffled the feathers of its stars too, with the focus on The Rock, who joined the series in 2011's Fast Five and is widely believed to be a leading reason for the franchise's success ever since. Fast Five took over $600m at the worldwide box office, its sequel took nearly $800m, and the latest two entries netted over $1bn each.
Vin Diesel, who has stayed with the franchise since the beginning and is a producer, has appeared to side with Tyrese, sharing a picture on Instagram of the two alongside the late Paul Walker with the caption: "Brotherhood".
Tyrese's post said, in full: "#PSA Congratulations to @TheRock and your brother in law aka 7 bucks producing partner @hhgarcia41 for making the fast and the furious franchise about YOU - And like you, DJ even if they call I will not be deleting this post - Gn folks see you in 2020 April #FastFamily right? Nah..... it's about #TeamDewayne #3yrs will it be worth the wait? #NoShaw just Hobbs will this be another #BayWatch? Guys guys just relax I'm just a passionate film critic."
The Rock hasn't yet responded to the ongoing beef.