A huge "fatberg" clinging to the sewer walls beneath UK government buildings and ministries on Whitehall is to be removed in an emergency operation to avoid a dangerous blockage.
The 66ft-long mass of congealed fat, wet wipes and sanitary items is one of the largest Thames Water has ever had to remove and will cost ten of thousands of pounds to blast away.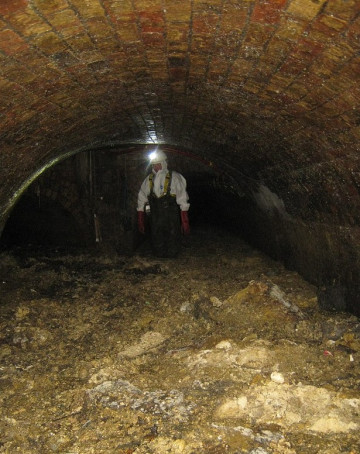 The fatberg is at the junction of Whitehall Court and Whitehall Place in central London and is in a sewer that is 6ft high and 3ft wide.
Workers will use specialist equipment to tackle the grime, which forms when items get stuck in cooling fat.
Thames Water said it has to remove around 55,000 fatbergs a year at a cost of £1m and faces closing down roads in central London.
Dave Dennis, the sewer manager for west London at Thames Water, said: "We have 67,108 miles of sewers and that's a lot of pipe to keep clear.
"We spend £12m a year tackling blockages, most of them formed because people have tipped cooking fats down the drain and wet wipes down the loo.
"The sewers serve an important purpose - they are not an abyss for household rubbish."
Last year an enormous fatberg weighing 15 tonnes was found beneath the streets of London, and was expanding at a rapid rate of three tonnes a month as people continued to pour fat down drains and put wet wipes down the toilet.