A father-son duo from Illinois was recently charged in Michigan for selling body parts infected with HIV, sepsis, and hepatitis in the black market for research purposes.
Donald Greene Sr. was charged with wire fraud and his son, Donald Greene II, was charged with intentionally concealing a crime last week for allegedly running an years-long operation that involved selling diseased cadavers to researchers, who had no idea about the scheme, the Associated Press reported. The two were associated with the presently-closed Biological Resource Center of Rosemont, Illinois, where people donated the bodies of their loved ones, with the understanding that they would be used for medical research.
The center, instead of donating the bodies, preserved them till they could arrange for buyers for the dismembered parts – some of which reportedly sold for up to $100,000. While it was not illegal to dismember and sell human body parts, it was against the law to knowingly sell remains that were tested positive for infectious diseases.
According to federal prosecutors, the medics and other professionals who bought the body parts from Green Sr. and his son had no idea that they were infected. The duo sold the diseased remains from 2008 to 2014.
In the charges filed, the authorities said that under "a scheme to defraud customers of the Biological Resource Center of Illinois", the Greenes sold to Detroit Medical Center's sports medicine department at least one specimen that "had previously tested positive for hepatitis. This fact was concealed from DMC by Donald A. Green Sr.'s scheme to defraud,", CBS 2 reported. Also, a search warrant stated that an unidentified woman was told by the center that her son's tissues would be donated to colleges and research centers, but some of his body parts were sold for $5,000.
Investigators were led to the pair after tracking evidence connected to Detroit body broker Arthur Rathburn, who was sentenced to nine years in prison in May 2018for supplying cadavers and body parts that were infected for medical training. During his trial, he told a federal judge he had no regrets about his crimes and that the "bequests were put to great use."
"We have 10,000 diseases in this world. We know how to treat 500 of them. The rest need to be studied," Rathburn told District Judge Paul Borman.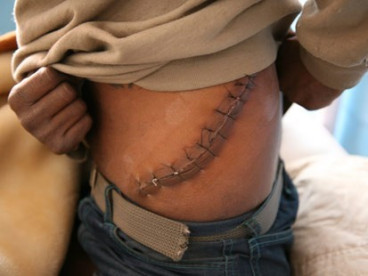 The prosecutors had originally requested a 14-year prison term for Rathburn, calling his crimes "deplorable." "Mr. Rathburn knew this and chose to profit," said Assistant Attorney John Neal. He added that the sale or lease of human remains for research was a "very important field" yet "lightly regulated."
When the FBI carried out a search warrant at Rathburn's "filthy" warehouse in December 2013, they found human body parts in paint cans, beer coolers and plastic containers, covered with dead flies. They also found body parts inside a refrigerator, next to ingredients for sandwiches and dried blood on the floor.
This article originally appeared in IBTimes US.