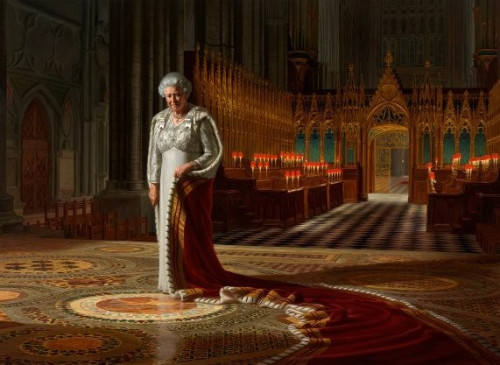 A Fathers for Justice campaigner who defaced a portraint of the Queen at Westminster Abbey has been jailed for six months.
Tim Haries, an electrician from Doncaster in South Yorkshire, was found guilty at Southwark Crown Court for daubing the word "help" in purple paint across the Ralph Heimans painting.
Haries told jurors he defaced the royal portrait to highlight what he described as the "social catastrophe" of divorced fathers being denied access to their children.
Judge Alistair McCreath told Haries he had caused "deliberate and planned" damage to a valuable item of property on public display as a publicity exercise.
The 9ft by 11ft portrait, which was unveiled as part of the 2012 Diamond Jubilee celebrations, had only been on display for three weeks before it was damaged.
Police were called to Westminster Abbey in June last year where security guards had detained Haries for defacing the painting.
He was arrested by police on suspicion of criminal damage and taken to a central London police station.
At the time an Abbey spokesman said: "Until work can be done to remedy the damage it will, very regrettably, not be possible to have the painting on public view."
The 42-year-old appeared in custody at City of Westminster Magistrates' Court in June charged with criminal damage over £5,000.