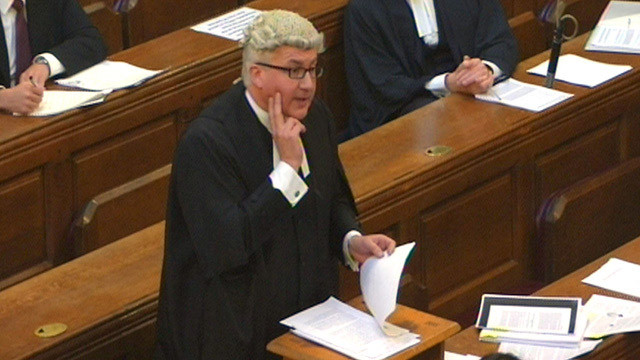 The Financial Conduct Authority has confirmed that it is considering an appeal against judge Anthony Leonard QC's decision to throw out a major fraud trial after the prime minister's brother said the proceedings were unfair because legal aid cuts had led to a lack of competent barristers.
The FCA said: "[We] are considering Leonard's ruling ordering a stay of the criminal proceedings against Scott Crawley, Dale Walker, Daniel Forsyth, Brendan Daley and Aaron Petrou and whether to appeal. In these circumstances we do not intend to comment further at this time."
The FCA conducted an investigation into the activities of landbanking firms, dubbed Operation Cotton, and charged Crawley, 35, Forsyth, 30, Petrou, 46, and Daley, 38, with conspiracy to defraud investors.
Walker, 53, was facing fraud charges and an allegation of money laundering in relation to the case.
Through the firms Plott UK, European Property Investments (EPI) and Stirling Alexander, Crawley was accused of being the mastermind behind the alleged £5m (€6m, $8.5m) scam between 2008 and 2011.
Reason for the Judge's Decision
"I have reminded myself that a stay should only be granted in exceptional circumstances and that in most cases an adjournment can cure what otherwise might amount to an abuse of the process of the court," said Leonard.
"I have taken into account that it is common ground between the parties that where the defendant is not at fault [of not having legal representation], in a case of this complexity the defendants could not receive a fair trial without advocates to represent them.
"There was no realistic prospect that in the future a suitable advocate will be available" to take up the case, he continued.
"Having considered all these matters, I am compelled to conclude that, to allow the state an adjournment to put right its failure to provide the necessary resources to permit a fair trial to take place now amounts to a violation of the process of this court.
"The knock-on effect on other trials, the waste of court resources and the need to disregard the Criminal Procedure Rules designed to protect the court system from abuse and to ensure that scarce resources are used to the best effect all add to the reason why an adjournment should not be granted."
Legal Aid Cuts and Cameron's Brother
In February, justice secretary Chris Grayling unveiled a £220m cut in the government's yearly legal aid budget by 2018/19.
Fees in complex and high-cost cases will be slashed by 30% and in other crown court work by up to 18%.
Alexander Cameron QC, the brother of David Cameron, who represents Crawley, Walker, Forsyth, Daley and Petrou free of charge, said that the raft of legal aid cuts led to the lack of competent barristers available to represent the defendants.
He added that many independent barristers refuse to work under current legal aid rates.
Prosecutors said, at the time, that the case should only be adjourned rather than cancelled, until qualified barristers became free.