The Feast Day of San Juan Bautista (St John the Baptist) is celebrated in several bizarre ways in the Philippines every year on 23 June.
In the village of Bibiclat in Nueva Ecija province, people transform themselves into "taong putik" (mud people) by covering themselves in mud and wearing costumes made from dried banana leaves. This tradition represents the way John the Baptist disguised himself when he baptised Jesus Christ.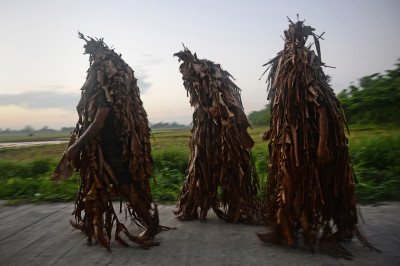 An even more bizarre tradition, the "Parada ng Lechon" (Parade of Roasted Pigs), is observed in Balayan, Batangas province. Roasted pigs are dressed up and paraded through the streets.
Crowds try to douse the pigs in wigs and their bearers with water or beer to represent the baptism. The festival ends with a feast – on the menu? Roasted pig.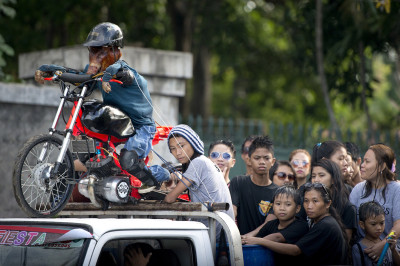 Throughout the Philippines, giant water-fights are held during the Festival of St John. Again, the splashing with water represents baptism.
St John the Baptist is the only saint whose birthday is celebrated in the Christian liturgy; all other saints' days are observed on the day of their death.