The birth of Saint John the Baptist is one of the most important Catholic feast days in Spain.
In Ciutadella, on the Balearic Island of Menorca, horses are made to rear on their hind legs while surrounded by large crowds. Brave members of the crowd may try to run under the rearing horses.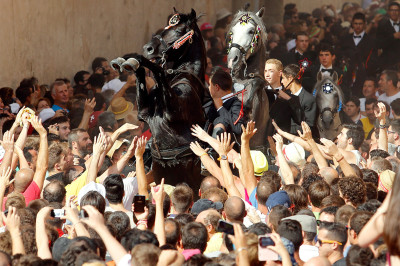 Throughout Spain, Saint John's Day is celebrated with bonfires as people burn objects they no longer need. Revellers burn unwanted furniture, old school books, wood and effigies of political leaders and evil spirits.
At beach parties young people jump over the flames to cleanse them of their sins on Saint John's night, the shortest night of the year.