Roger Federer arrived in Prague for the inaugural Laver Cup taking place between 22–24 September and confirmed that he is ready for the tournament after recovering from the exertions of the US Open.
The Swiss ace had a strong first-half of the season, winning five titles, including two Grand Slams – the Australian Open and Wimbledon – but was struggling with a back injury coming into the US Open, where he was beaten in the quarter-finals by Juan Martin del Potro.
Federer picked up the injury during his Rogers Cup final loss to Alexander Zverev, but confirmed that he has recovered from the setback and is now ready for the Laver Cup, which will see Team Europe take on a team from the rest of the world.
Bjorn Borg is the captain of the European team consisting of Federer, Rafael Nadal and Tomas Berdych, among others and the Swiss star is hopeful about playing at least one out of the nine singles matches and one of three doubles matches.
"I was tired, lot of things in my body weren't right and I tried to take a rest and be ready for Laver Cup," Federer said, as quoted by Tennis World USA.
"Back is doing well. I will try to practice every day until Friday, when the first matches will be played. On Wednesday, there will be an event similar to the one we had in February with all the players in the Old City town. I will give my best to be ready for every match.
"It will be (captain) Bjorn Borg to decide everything. Hopefully, I can play doubles and at least one singles match, it doesn't matter on which day," he added.
Nadal and Federer could team up and play doubles at the Laver Cup over the weekend, but once the regular tour resumes, they will begin their battle for the year-end number one ranking. The duo have dominated the 2017 campaign, splitting the four major events between them, with the Spaniard winning the French and US Open tournaments either side of Federer's major triumphs in Melbourne and London.
They have won five titles apiece and are currently ranked number one and two in the world respectively. Nadal is around 1,960 points ahead of Federer, but the Swiss ace is at an advantage as the hard court events are more his cup of tea than Nadal's.
The 36-year-old revealed that he is delighted for his long-time rival and admits that it is a surprise that they have dominated this season. They were aided by injuries to Novak Djokovic and Andy Murray, but the Serb and the Scot had also benefitted earlier when the aforementioned duo were struck by injury in 2016.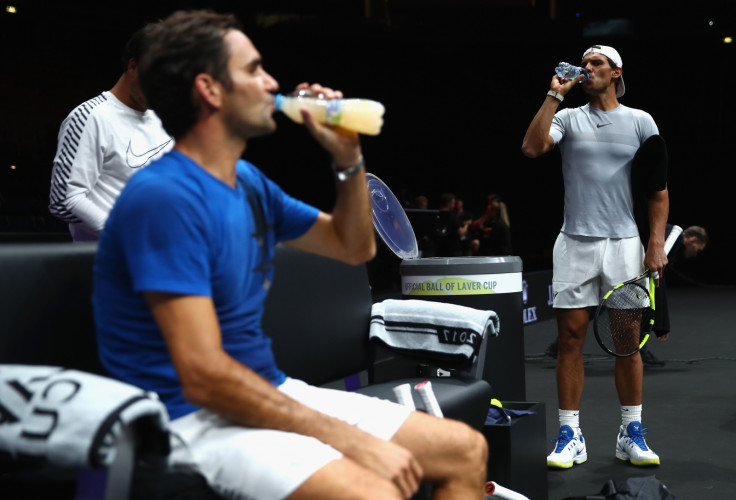 "I feel like in 2006 or 2005," Federer said while talking about this season, where both him and Nadal have dominated, winning all four majors between them.
"I am so happy for Rafa. Two major titles for each of us is certainly a big surprise. Some injuries to opponents helped us, but it has happened the other way in the past too. For us, it's a dream season that hopefully will end in style."