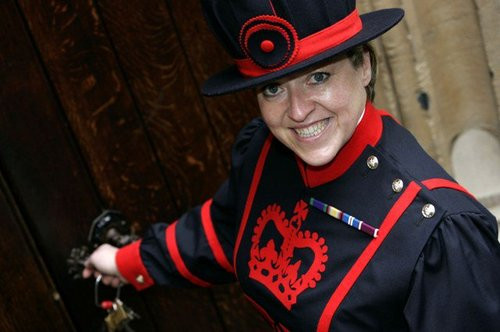 The first woman to join the Beefeaters - the elite rank of military officers who protect the Tower of London – is fronting a recruitment drive years after going public as a victim of bullying and harassment by fellow officers.
Moira Cameron has put her ordeal behind her and is pictured in a new recruitment campaign for employers Historic Royal Palaces, who are trying to drive up applications from women and ethnic minorities to the Beefeaters, whose full title is The Yeomen Warders of Her Majesty's Royal Palace and Fortress the Tower of London.
Cameron, 43, can be seen smiling in the advertisement, which is running in Soldier magazine. The ad calls for people with want "a career in modern heritage tourism for forward thinking, people-focused individuals who are excellent communicators and have an inherent sense of fun reflecting modern Britain".
Cameron became the first woman Beefeater in 2007, more than 500 years since they were formed by King Henry VI in 1485.
But just two years later she became the victim of bullying and harassment by male colleagues, and an investigation revealed fellow Beefeaters had subjected her to "prolonged and subtle harassment". Cameron described it as a "horrible, isolating experience".
Two of her colleagues were disciplined in 2009 and Tower of London governor Major General Keith Cima was sacked for criticising Tower owners Historic Royal Palaces a year later. In a statement at the tribunal, Cameron had said: "I'm still suffering harassment by yeoman warders".
But it is thought Cameron now feels more positively about her role. Last year, she said: "There were times I thought I might leave but I'm glad I stayed. It was a case of breaking the mould and changing the place, rather than leaving and letting it continue. There was a small village mentality and I'm glad I stayed and got through it. It was four years and it was not easy and I sacrificed a lot in that time."
Beefeaters must have at least 22 years' service in the army, air force or royal marines, as well as long service and good conduct medals.