At a City Hall conference on female genital mutilation this week, Alimatu Dimonekene, a homelessness officer from north London, opened up about her own, horrifying experience.
Alimatu was subjected to mutilation in her grandmother's house in her native Sierra Leone. Now aged 44, she recalls how at the age of 16, she went through an excruciating ordeal which took place in a house that had previously held only good memories.
She began her story - in front of journalists, campaigners and politicians - by saying she hoped it will only need to be told once. She then proceeded to recount the horrific details of the day when, as a teenager, she was ambushed by a group of women; some she knew and some she did not.
Alimatu was forced to the floor, her dress ripped and her legs held apart by her aunts. She was then stripped.
She continued: "I could hear the traditional screams of the cutter and saw a glimpse of her face, which has stayed with me. I was fighting and screaming. My aunts were holding my legs wide and this woman launched at me, holding a filthy cloth with her instruments."
Alimatu now knows that the woman who performed the procedure was a local drunk, who was paid to cut women.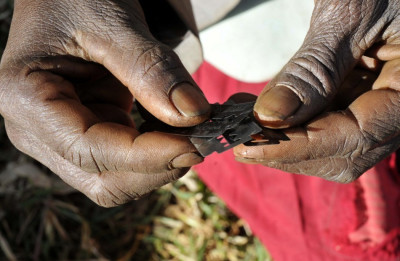 The pain Alimatu experienced is impossible to imagine. She said: "I have never felt so much pain in my entire life. I saw my mother trying to rescue me but they wouldn't let her through.
"I had all my clitoris removed, every bit of it. After the cutting they all moved away because you are still considered unclean. I could hear my younger sister screaming in the next room and I couldn't go to her. She was only six."
Afterwards, she was left lying naked in her own blood, before the group came back and tied her legs together with string. Alimatu was given an African cloth to cover herself up, which was soaked in blood - and ash was placed on her sores, which caused an infection.
She continued: "I didn't stop bleeding for three and a half weeks. Another lady came to 'cleanse' me with herbs. It felt like putting petrol over flame. My whole skin and private area had sores. I always felt I was a strong person but this was something I couldn't fight. Now I have good days and bad days. I wanted to explore the world and become something but FGM became me."
It is estimated that over 60,000 women and girls in the UK are at risk of FGM, while the procedure affects millions worldwide. It is classified as torture by the UN and despite the UK government's pledge to end FGM in the country, not one prosecution has yet been made.
The UK's Department for International Development has pledged £35 million to 17 different countries over the next 5 years to fight FGM. Sierra Leone, Alimatu's homeland, is not one of them.
This week, BBC London revealed thousands of women and girls have been treated for female genital mutilation in 31 of the city's hospitals since 2009. Guy's and St Thomas' NHS foundation Trust Treated the most patients, caring for 1,146 FGM patients between 2009 and 2013.
In total, 3,939 FGM patients were cared for. St George's Healthcare NHS Trust saw 795 patients, the second highest number, while Ealing Hospital NHS trust cared for 633 victims of genital cutting. The Whittington Health NHS trust saw 493 patients and Homerton University Hospital NHS Foundation Trust treated 254 women.
At the conference, which was organised by Marina Yannakoudakis MEP, Boris Johnson stated doctors, teachers and social workers must be forced by law to alert police to suspected cases of FGM.
The London mayor said the practice was "absolutely intolerable" and called for children to be taught about the "barbarity" of FGM in schools.
He said: "Until we reach the point where it is mandatory for all statutory agencies to record and share data on FGM, we will not get a truly accurate picture and the police will not be able to do their job to protect victims and bring offenders to justice."
"This is a crime [which was] basically outlawed in the early-mid 1980s and yet, unlike France, we have not had one single successful prosecution for what is unquestionably a completely barbaric crime."