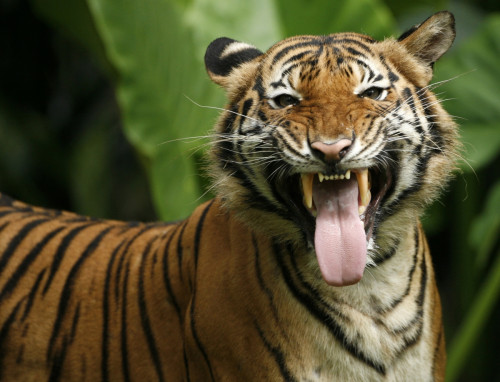 A female Malayan tiger has been killed by a male at a San Diego zoo, after a mating attempt went horribly wrong.
The tiger, named Tiga Tahun, died of neck injuries and breathing difficulties.
At first, the two tigers were showing signs of compatibility, as there was "positive interaction between the two big cats," said the zoo in a statement.
"Everything was spot on," said zoo spokeswoman Jennifer Mehlow.
"Unfortunately this changed quickly and zoo-keepers were unable to separate the two animals."
Mehlow went on to say the male tiger suddenly displayed "aggressive behaviour."
This was the first fatal attack during a mating session at the zoo, and the death happened before opening hours, so no visitors witnessed the mauling.
This was the first breeding encounter for either of the two animals, the only Malayan tigers at the San Diego Zoo.
The tigers were introduced to each other gradually, touching noses, but were separated by a barrier.
Leading zookeepers believed that conditions were right for them to have their first meeting which would hopefully lead to breeding.
The dead tiger was born in 2009 at the Bronx Zoo, while her killer mate, Connor, was born at the San Diego Zoo in 2011.
Fatal attacks are unusual, but behaviour can be unpredictable during breeding, say experts.
In November, a five-year-old female lion was fatally bitten on the neck by a male at Dallas Zoo, in full view of visitors and families watching the exhibit.
Fewer than 500 Malayan tigers are believed to be living in the wild worldwide, and another 60 live in captivity in North American zoos.
The sub-species of Malayan tiger is listed as endangered because of poaching and loss of habitat in Malaysia and parts of Thailand where they are found.