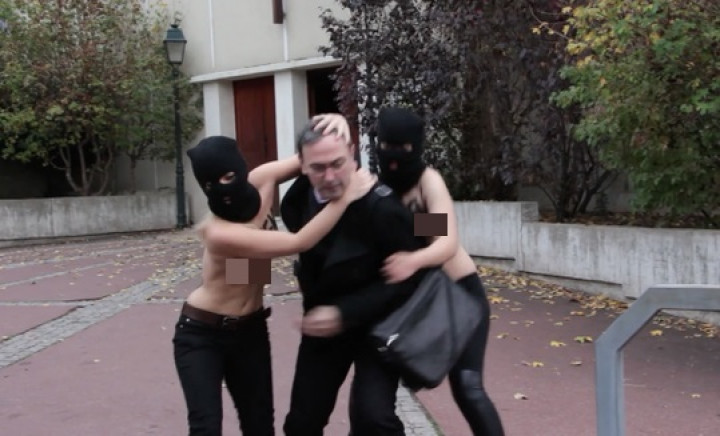 The radical feminist group Femen has released a video purportedly showing the kidnapping of a priest in protest against a scheduled visit by Pope Francis to the EU parliament.
In the footage, released by the group's French branch, a clergyman is forcibly shoved into a car by three topless militants wearing balaclavas.
A statement accompanying the shaky recording, published on social media, claims the abduction is real. However the priest's calm reaction and the quality of the video suggest otherwise.
"We took our first hostage to defend secularism against attacks of Vatican, the biggest religious mafia leaded by Pope," Femen wrote on its Facebook page.
"We are ready to release the priest once our demands are satisfied."
The group claimed they will not release the purported priest unless Pope Francis' official visit the European Parliament in Strasbourg on 25 November is cancelled.
"We promise to treat the hostage well and provide him with everything that is necessary while he is in our hands/breasts," Femen said. "Unlike from religion [sic.], feminism is peaceful".
IBTimes UK contacted Femen and its leader Inna Shevchenko but no one was available for a comment.
The video has drawn criticism from internet users irritated by what they say is the depiction of an illegal act of violence.
Femen has targeted the Catholic Church repeatedly with controversial PR stunts.
Last week, three topless demonstrators were dragged away from St. Peter's Square at the Vatican, after simulating anal sex with crucifixes in a protest against Pope Francis' alleged meddling with politics.
Other Femen activists were recently acquitted over a topless protest in Paris's Notre Dame cathedral inh February 2013, in response to the news that Pope Benedict XVI was to quit as head of the Catholic Church.
The activists stripped to their knickers and bared their breasts, stunning bystanders at the holy site.
They displayed messages scrawled in pen across their bodies such as "pope no more", "saved by the bell" and "bye bye Benedict". Some of the Femen members were punched in the face by angry Catholics before being escorted out of the church by security stuff.
After the Femen demonstration, a 78-year-old right-wing author shot himself in the mouth in front of the ceremonial table at Notre Dame after posting on his blog a damning critique of the same-sex marriage bill, and called for "spectacular and symbolic actions [to] awaken consciences".