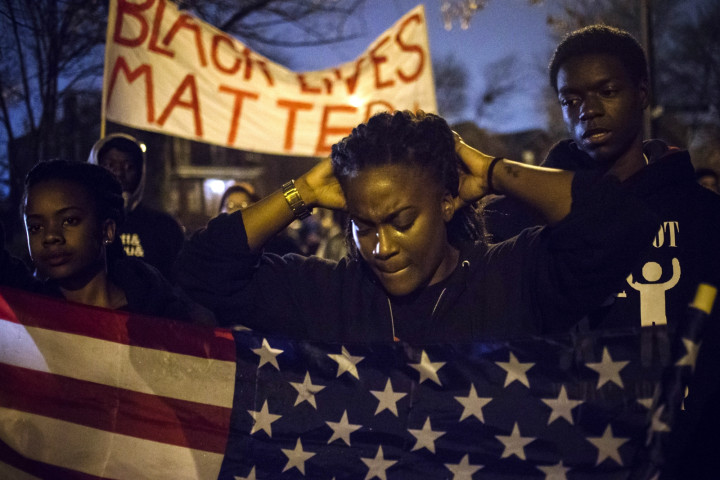 The St Louis County prosecutor's office will inform Michael Brown's family of the decision they have made later on Monday.
A Missouri grand jury has reached a decision on whether to indict Darren Wilson, a white policeman for shooting dead an unarmed black teenager.
Michael Brown's family lawyer said that the prosecutor's office contacted him on Monday that a decision was made, reported to be around 8pm local time.
The 12-member grand jury has heard evidence for over three months on the shooting which took place on 9 August. Since then, there have been protests with police heavily criticised for using military grade riot gear.
Missouri Governor Jay Nixon has declared a state of emergency in the area and called in 400 National Guard troops in case of violent protests, if no charges are brought against the police officer.
In Ferguson, shops were nailing shut their windows and petrol stations closed down.
Pic via @MicahGrimes Not only is a #Ferguson area QT boarded up, there's also a fence around the perimeter. pic.twitter.com/vWbiZ4lplH

— Amanda Palumbo (@amandapalumbo) November 24, 2014
Among the charges a jury can recommend are first-degree murder, which is punishable by life imprisonment or the death penalty.
A more lenient sentence is second-degree involuntary manslaughter, which carries a maximum of four years in jail.
Americans are strongly divided along racial lines as to whether Ferguson police Officer Darren Wilson should be charged with murder in the shooting death of Michael Brown.
According to a CNN/ORC poll, 54% of non-whites say Wilson should be charged with murder, while 23% of whites say the police officer shouldn't be charged at all.
However, a combined total of 32% say a Missouri grand jury should charge Wilson with murder, while 25% say he should face lesser criminal charges.
Multiple police, fire, and EMS crews staging right now in Clayton. #Ferguson pic.twitter.com/dRHILTuqF1

— Matt Flener KMBC (@MattFlenerKMBC) November 24, 2014
Chicago activists are mobilizing for 6:30 pm protests tonight, announcement or not #Ferguson pic.twitter.com/C8ABUJBAOc — Brandon Wall (@Walldo) November 24, 2014
Clayton jeweler The Diamond Shop near where grand jury in #Ferguson decision will be announced boarding up now pic.twitter.com/Z376AxakXp

— Lisa Brown (@LisaBrownSTL) November 24, 2014