The actions by Ferguson police in the wake of the killing of unarmed teenager Michael Brown were in breach of human rights, according to Amnesty International.
The human rights organisation said the police responsible for attempting to control the several days of disorder which followed the killing of black 18-year-old Brown by white police officer Darren Wilson should be investigated.
Officers in the Missouri town were heavily criticised for their use of tear gas, rubber bullets and even military equipment in their attempt to quell the racially charged protests. Amnesty also stated that at least two children were treated for exposure to tear gas as a result of police actions.
The report, entitled On the Streets of America: Human Rights Abuses in Ferguson, also outlines a series of recommendations, including only using "non-lethal" ammunition to control crowds as a last resort as they have been proven to cause serious injury or even death in the past.
The group says under Missouri state law, police may use deadly force against someone even if there is no imminent threat of harm.
Rachel Ward, director of research at Amnesty International, said: "Lethal force is only to be used to protect life when there is an immediate threat.
"The Missouri statute goes far beyond that. It is of grave concern."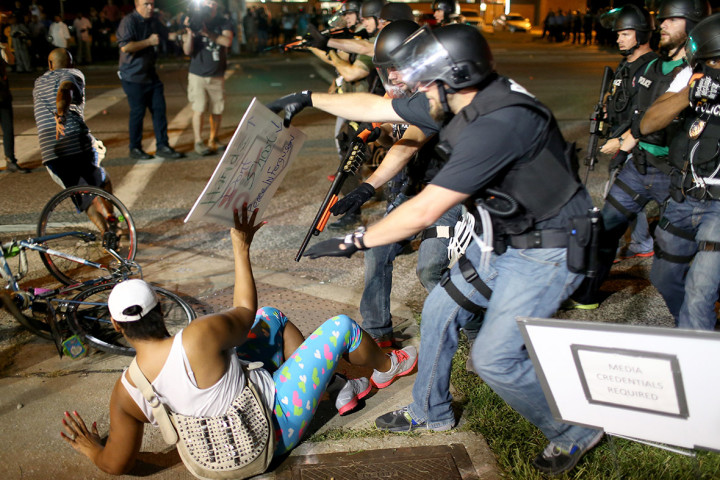 Amnesty called into the question the methods behind the use of riot gear such as tear gas and whether they were legally used.
The report said: "Oftentimes it is unclear whether an order to disperse was given, whether that order was in fact lawful, and whether that was made clear to the protesters before law enforcement forcibly ended the protests."
It also called for urgent research into the use of sound cannons before they are used again as they pose serious health risks which range from "temporary pain, loss of balance and eardrum rupture, to permanent hearing damage".
Steven Hawkins, executive director of Amnesty International USA, said: "What Amnesty International witnessed in Missouri on the ground this summer underscored that human rights abuses do not just happen across borders and oceans.
"No matter where you live in the world, everyone is entitled to the same basic rights as a human being – and one of those rights is the freedom to peacefully protest.
"Standing on W. Florissant Avenue with my colleagues, I saw a police force, armed to the teeth, with military-grade weapons. I saw a crowd that included the elderly and young children fighting the effects of tear gas. There must be accountability and systemic change that follows this excessive force."
He added: "The events in Ferguson sparked a much-needed and long-overdue conversation on race and policing in America. That conversation cannot stop. In order to restore justice to Ferguson, and every community afflicted by police brutality, we must both document the injustices committed and fight to prevent them from happening again.
"There is a path forward, but it requires substantive actions on the local, state and federal levels."
The group previously expressed their concerns over the police's actions in Ferguson, saying the US could not tell other countries to improve their records on policing and peaceful assembly if it won't "clean up its own human rights record" during the height of the protests.