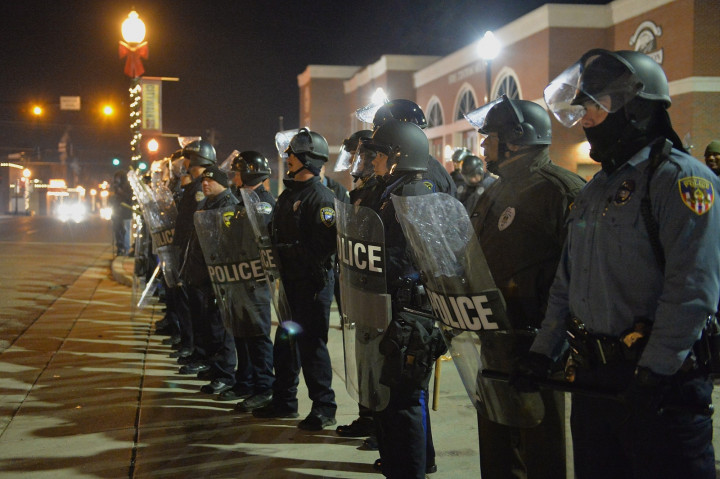 Two men have been arrested for allegedly buying explosives which they planned to detonate after a Grand Jury had announced its decision on whether to prosecute police officer Darren Wilson for killing unarmed black teenager Michael Brown.
Brandon Orlando Baldwin and Olajuwon Davis, who allegedly belong to a militant group called the New Black Panther Party, were arrested following an FBI sting, law enforcement sources told Reuters.
They have also been charged with purchasing pistols from a firearms dealer under false pretenses.
CBS News reported that the men had planned to set off pipe bombs in the protests, and officials said that other charges are pending. NBC News reported that the men were not part of a wider plot.
The police and FBI are believed to have stepped up their presence in Ferguson, Missouri, with many expecting violent unrest if, as many predict, authorities decide not to prosecute Wilson.
Protesters have already gathered in the city and three men were arrested on Friday night after a group of demonstrators blocked traffic on streets in the city.
Earlier in the week state governor Jay Nixon called a state of emergency as a precaution, and activated the state National Guard.
Police and witnesses have said that Brown and Wilson engaged in a physical struggle through the window of Wilson's SUV after the 18-year-old was stopped by the officer.
Wilson claims that he feared for his life and opened fire when Brown charged towards him and attempted to attack him.
Law enforcement officials say that Brown attempted to take Wilson's gun when he fired the first shot.
A number of eyewitnesses have publicly stated that Brown fled from the vehicle, and was shot dead when he turned and raised his hands to surrender.