If Roberto di Matteo believes the biggest problem to emerge from his Chelsea side's draw with Juventus was the ease at which they surrendered their two-goal lead build on the foundation of the ingenuity of Brazilian wonder kid Oscar, then the depth of the Italian's managerial acumen following his Champions League and FA Cup double win last season has been substantially overstated.
Granted, Di Matteo must surely stray away from the ultra-defensive displays which accompanied the victories over Barcelona and Bayern Munich, during this season's group phase, but against a wily Juventus side, who went the whole of last season in Serie A unbeaten on their way to the title, The Blues were the victim of their own self-confidence.
Two pieces of excellence from Oscar had provided Chelsea the platform to get their Champions League campaign off to the perfect start, but elsewhere, chances were seldom fashioned by a creative engine room among the best on the continent.
However, there was no faltering the determination of the effort of the likes of Eden Hazard, Ramires and Oscar in that department. The Lille winger was a constant source of optimism on either flank, even if his tendency to drift inside is beginning to become predictable; Ramires's early season injury appears to have hit his early form while Oscar, away from his double, was asked to track Andrea Pirlo for long periods.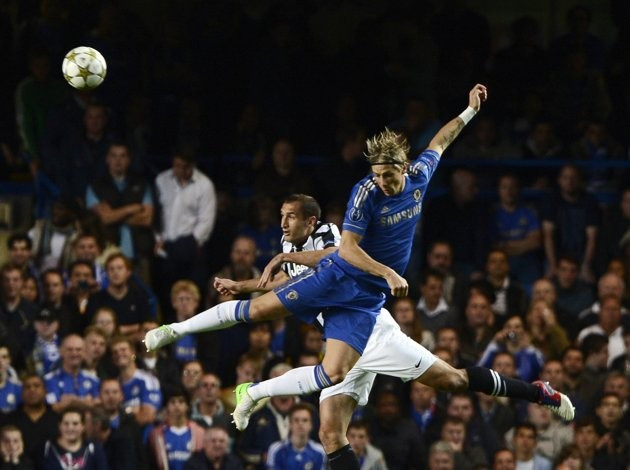 Instead, it's not so much those creative sources that should be castigated for Chelsea's static approach on Wednesday evening, but rather the focal point of their efforts; striker Fernando Torres. The Spaniard ploughed a lone furrow at the Bridge, with his influence wavering from the ineffective to the anonymous.
His well-documented decline, sparked by his move to Chelsea from Liverpool in January 2011, has included sporadic attempts to return to his best. His most recent resurgence came during the summer's European Championship, but his status as the tournament's top scorer has worked as a false dawn ahead of the new season.
Previous form and reputation have often been used as excuses for his continued preference as the spearhead of Chelsea's attack, but 21 months' worth of persistence has seen only a mild alteration in his form. With such assistance now at his beck and call, especially in the form of Hazard, defending his continued inadequate performances is becoming increasingly tough.
As the relevance of Torres' reputation continues to erode, his standing as a player for the big occasion, which was made a mockery of during a stuttering showing against the Italian champions, is also in jeopardy.
Di Matteo has clearly intrusted Torres to lead the line this season, having refused to replace Didier Drogba during the summer transfer window; however this season has so far exposed that decision to be misguided.
With only Daniel Sturridge in reserve, Di Matteo has no room to consider Torres among equals. He must hope the £50m man returns to his former self if Chelsea are to challenge for honours this season. That's his biggest headache.