Football: it's just a game right? Eleven against eleven, jumpers for goalposts, hot Bovril on the terraces...
Then consider the past 24 hours.
At 6am, in a plush hotel on the shore of Lake Zurich, a dawn raid by Swiss law enforcement agents saw seven executives from global football's governing body, Fifa, arrested on charges of a multi-million dollar corruption scandal.
Across the Atlantic, the head of the FBI, the US attorney general and the head of criminal investigation for the IRS gave a press conference outlining the alleged "racketeering" and "bribery" at the heart of the game. The 100-page indictment reveals a trail of bribes and dirty cash that spanned the globe but took place in and around the US.
Much of the evidence comes from the testimony of a former member of Fifa's inner circle. Chuck Blazer was a former general secretary of Concacaf – the body that oversees football in North and Central America as well as the Caribbean – and a member of Fifa's powerful executive committee.
When he was caught up in the scandal – after it was revealed that his largesse extended to a $29 million credit card bill as well as two Trump Towers apartments, one for him and one for his pet cats (leading one commentator to coin the phrase "Chuck's Cat Shack"), all paid for by football -- the FBI turned him into a super-grass. In a plot worthy of an Ian Fleming novel, Blazer was then fitted with a wire for his visit to the London 2012 Olympic games, where he recorded Fifa executives in secret.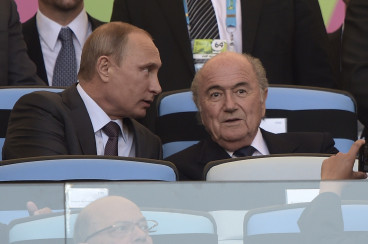 Then, this morning, Russian president Vladimir Putin made his views clear. The arrests and the investigations by the FBI, he said, were a clear attempt to take the 2018 World Cup away from Russia, which was awarded the tournament along with Qatar 2022, at a tainted, controversial Fifa vote in December 2010. It was also an attempt to spread US legal jurisdiction outside its borders, he said.
Greed, corruption, the FBI, Putin: Yesterday's stunning corruption arrests, broken by the New York Times, prove that the beautiful game is now part of the hard political game. For those who have watched how the game has developed over the past decade, this should come as no surprise. Football in general, and the World Cup in particular, has become a huge business with huge political power.
During the last World Cup cycle Fifa made nearly $6 billion gross. But more importantly governments have seen football as an important policy tool: either a way to project its power on to the international stage or a form of reputation laundering.
The Arabian Gulf is perhaps the best example of this. From 2004 onwards, the small, gas and oil rich emirates had attempted to project their new-found wealth through sporting mega projects. Flush with pre-2008 crash optimism, both Qatar and the UAE harboured ambitions of hosting Olympic Games and World Cup finals. It seemed that the hard facts in the ground – a Gulf summer rarely dips below 50 degree Celsius – made that impossible.
Yet somehow Qatar won the bid to host the 2022 finals, initially with a futuristic pitch featuring air-conditioned stadiums. Later Fifa realised this was impossible and has moved towards having a winter World Cup for the first time, angering the rich European leagues which will have to change their schedules to accommodate the move.
The wider game
Club football, too, has been penetrated. Manchester City was bought by Sheikh Mansour, a member of the Abu Dhabi ruling dynasty. Paris St Germain was bought by Qatar, which also invested heavily in a plethora of sponsorship deals with Barcelona.
Oligarchs from Russia, Uzbekistan and Ukraine have invested in football too, partly out of boredom, partly as an insurance policy. It is far harder for Vladimir Putin to dismantle the assets of troublesome Oligarchs if they have international visibility via club ownership. And then there's Gazprom, a key political tool in the energy wars currently raging in Eastern Europe. Far from being criticised for its politicisation, it is transformed into a cuddly provider of warmth and light thanks to its huge sponsorship deal for Uefa's Champions League.

Sepp Blatter is vital in Fifa's culture. He has been president for 17 years; he was CEO for 17 years before that, so he has had a central role for 34 years, more than a lifetime of some people. If he didn't know this was going on, you'd have to ask what the hell he was doing. And if he did know, you'd have to assume he turned in a blind eye. Either way, in any normal organisation he would resign.
Read our interview with Fifa whistleblower Bonita Mersiades here (pic: Reuters)

But the events in Zurich, Washington and Moscow have finally blown away any pretence that football is just a game. And there is more to come. The arrests took place on the eve of Fifa's annual congress where the vote for the next president was due to take place.
Sepp Blatter, the pugnacious 79-year-old president, was expected to be confirmed for his fifth term. Despite all the alleged corruption that has taken place on his watch, he has escaped any direct connection to the allegations. Indeed, he remains widely popular in his power base outside of Europe, having transformed Fifa from a sleepy little organisation with just 11 staff (Blatter, when he was hired in 1975, was employee number 12) into a multi-billion dollar concern that has enriched the smaller federations in Asia, Africa and South America.
As things stand, the vote is likely to go ahead (and Blatter is likely to win), but it will certainly not be the end of the story.
If Blatter beats his only rival – the affable Prince Ali of Jordan – as expected, it risks rupturing the organisation. Several figures within Uefa, Europe's governing body, have already called for a breakaway organisation to be formed if Fifa proves to be incapable of reform. There is also a separate Swiss-led criminal investigation into the vote for the 2018 and 2022 World Cup finals that was also announced on Wednesday.
Several US and EU lawmakers have already called for Russia to be stripped of the finals over its behaviour in Eastern Ukraine. The fact that Vitaly Mutko, Russia's sports minister and a member of Fifa's executive committee, will be questioned and that Putin himself has felt the need to intervene, proves that a bigger game is afoot. The game of our halcyon days of youth is gone forever.
---
James Montague is author of Thirty One Nil (Bloomsbury) & When Friday Comes (deCoubertin). He writes for the New York Times, CNN and World Soccer and contributes to the BBC World Football show. Follow him @jamespiotr.