Several top Fifa executives have been arrested on suspicion of fraud after allegedly receiving and paying millions in bribes.
Swiss authorities are said to have made the arrests during an early morning raid at the five-star Baur au Lac hotel in Zurich, Switzerland, on behalf of the US Justice Department.
It is reported six officials have been arrested during the corruption and racketeering investigation and are now facing extradition.
Among the people said to have been arrested include vice president Jeffrey Webb, Eugenio Figueredo of Uruguay, who is also an executive committee vice president and Jack Warner of Trinidad and Tobago, a former member of the executive committee, reported the New York Times.
The other Fifa executives also arrested are Eduardo Li, Julio Rocha, Costas Takkas, Rafael Esquivel, José Maria Marin and Nicolás Leoz.
Fifa spokesperson Walter de Gregorio told The Associated Press president Sepp Blatter is "not involved at all" with the arrests.
Fifa members were gathering in Zurich ahead of the football world governing body's annual meeting, where Blatter is expected to be elected for a fifth term as president.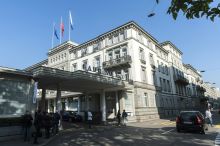 The arrests form part of allegations into widespread corruption at Fifa over the past two decades involving bids for World Cups as well as marketing and broadcast deals.
The men were arrested on charges including wire fraud, racketeering and money laundering.
"We're struck by just how long this went on for and how it touched nearly every part of what Fifa did," an unnamed police spokesperson told the New York Times.
"It just seemed to permeate every element of the federation and was just their way of doing business. It seems like this corruption was institutionalised."
A Fifa spokesperson told the BBC: "We have seen the media reports and and are seeking clarity in this matter. We will make no further comment at this stage"
There have been allegations of corruption at Fifa following the controversial decision to name Qatar as host of the 2022 World Cup.
A Fifa ethics committee into the bid ruled any law that may have been breached was only of "very limited scope" and continued to allow the Arab country to host the event.
The Swiss Federal Office of Justice said: "The bribery suspects — representatives of sports media and sports promotion firms — are alleged to have been involved in schemes to make payments to the soccer functionaries (Fifa delegates) and other functionaries of Fifa sub-organisations — totalling more than $100m.
"In return, it is believed that they received media, marketing, and sponsorship rights in connection with soccer tournaments in Latin America."