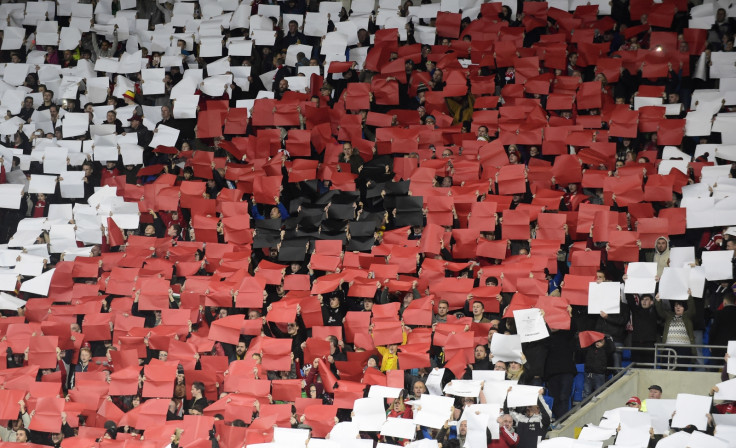 Fifa will take disciplinary action against the Welsh and Northern Irish football associations in the latest chapter over the controversy of poppies at international matches.
Football's governing body has already charged England and Scotland for their players wearing the symbol on Armistice Day.
And while Wales and Northern Ireland decided their players should not wear poppies on their shirts or armbands, fans wore them, while a member of the armed forces held a bunch of poppies in the stadium.
Wales and Northern Ireland, who were playing Serbia and Azerbaijan respectively, held a minute's silence and laid wreaths and supporters wore poppies in the stands but not through any organised act.
Fifa says its rules forbid political, religious, personal or commercial messages at matches.
The Football Association of Wales said that Fifa was investigating several incidents, including "some supporters in the stands wearing the poppy and a member of the armed forces holding a bunch of poppies at the exit of the tunnel", The Times reported.
Jonathan Ford, chief executive of the Welsh FA, said it was "disappointed" that one of the charges relates to supporters in the stands wearing poppies and that "we will strongly contest the charges."
The Irish Football Association said that it would also robustly defend the disciplinary charges.
Tim Farron, leader of the Liberal Democrats, said Fifa "has taken leave of its senses".
"It is absolutely extraordinary that it has nothing better to do than start ridiculous investigations into nations choosing to signal their remembrance.
"I wish the associations luck in contesting these spurious charges and encourage Fifa to use some common sense by ditching this move," The Times reported.