The Tower of London's Blood Swept Lands and Seas of Red Armistice display, which was on display last year, made a significant profit for hedge fund investor who helped finance the project, it was revealed on Sunday.
Ben Whitfield, a former executive of Olympia Capital Management, made between £2m-£3m ($2.5m-$3.76m) while artist Paul Cummins took home almost £7.2m, which would likely have made him a profit The Sunday Times estimated.
After other costs – such as £1.36m for the Tower's management organisation and 5% VAT to HM Revenue and Customs were deducted – just £8.4m of the total £23m raised from the display was paid to charity. It had been claimed that more than £15m was raised for service charities.
Cummins, who's ceramics company which created the poppies sold to members of the public for £25, told the Sunday Times, "It would not have been possible to create the artwork," without private investment.
A spokesperson added that Whitfield was paid "in line with what would have been expected from any high-risk, large-scale project".
The 888,246 ceramic poppies – one for each of the First World War fallen British and Commonwealth servicemen – which filled the Tower's moat last year would have cost around £2.50 to manufacture. Sources told The Sunday Times that the £7.2m paid to Cummins' company was significantly higher than costs incurred by the artist.
The revelation will do little to instil public confidence in charity donations, as Just Giving netted a 5% fee for each donation. In September, the Sunday Times also cast doubt over the use of Libor fine funds given by the UK government to veterans' charities.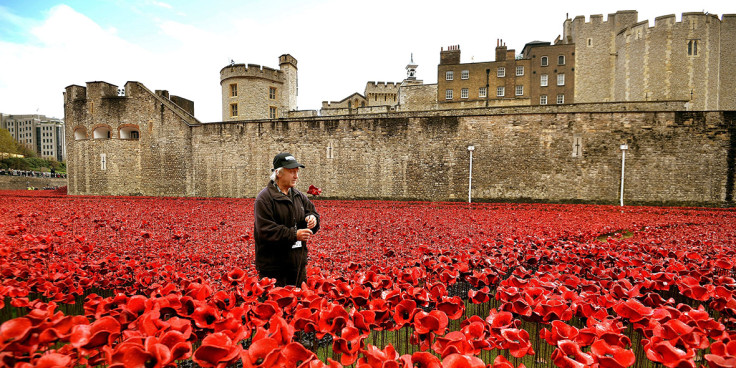 The UK government announced this year that funds from fines levied on banks for Libor rate-rigging would go to charities. At the time, then-chancellor George Osborne said: "I am proud to be supporting causes that will make a real difference to those dedicated to serving their country. It is right that funding from those in the banking industry who demonstrated the worst of values goes towards people who display the very best of British values."
Concerns raised by the Times in September ranged from criticisms of techniques used by one of the beneficiaries to questioning the existence of another. The Times said The Warrior Programme, which received almost £1m, used "dangerous" treatment for post-traumatic stress disorder, practised by a trainer who had no formal qualifications.