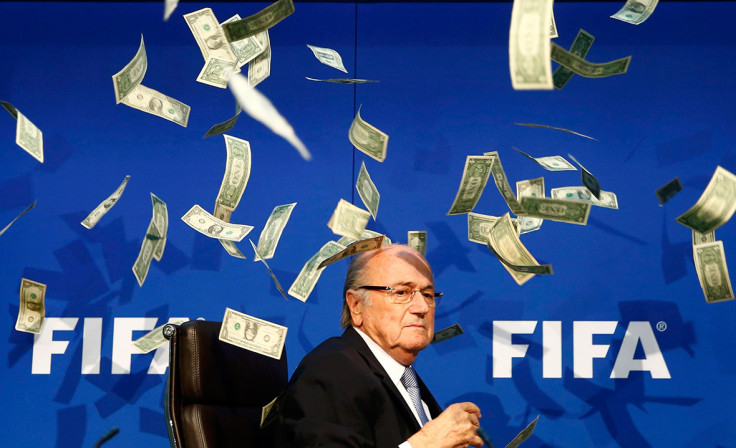 Fifa said it paid former president Sepp Blatter £2.5m ($3.6m, €3.1m) as a basic salary in 2015 as it revealed a total loss of £84m (€107m, $121m) for the year. Football's world's governing disclosed Blatter's salary for the first time in its annual Financial and Governance report published following an "incredibly tough year".
The £84m loss, the first since 2002, is due to Fifa failing to sign any new World Cup sponsors in the wake of the corruption scandal which has engulfed the organisation. Blatter has been banned for footballing activity for six years – a decision he has announced he will be launching an appeal against – over a £1.4m payment made to former Uefa chief Michel Platini, who has also been banned from football activities.
Several Fifa executives, including Chuck Blazer and Jack Warner, have also been named in the bribery and corruption investigation, with Fifa admitting both were involved in a £14m payoff in exchange for votes regarding the 2010 FIFA World Cup in South Africa
Newly elected Fifa president Gianni Infantino said: "2015 was an incredibly tough year for Fifa, and one that will take some time and collective hard work to fully recover from. The challenges of the past 12 months are reflected in our financial results for the year. These results stand as cautionary tale of what can happen if we lose sight of the primary responsibilities of our mission, and if we fail to take the necessary steps to protect our organisation against wrongdoing."
A Fifa spokesperson added: "The unprecedented events that occurred in 2015 have impacted upon Fifa's financial results, however the organisation's healthy reserves have allowed it to weather the storm. Fifa is confident that the reforms under way will help to restore trust with commercial partners and achieve the budget goals for the 2015-2018 cycle, which have been adjusted to reflect the priorities set by Fifa President Gianni Infantino."