American Fifa snitch Chuck Blazer described in court how he and other football association leaders accepted a massive $10m (£6.5m) bribe in exchange for choosing South Africa as the venue for the 2010 World Cup.
The details were revealed as US prosecutors unsealed the transcript of a 2013 hearing against Blazer in a court case in the Eastern District of New York. The admissions were part of a sentencing deal with prosecutors when Blazer pleaded guilty to ten charges, including tax evasion, money laundering and racketeering.
In exchange for an expected reduced penalty, Blazer agreed in 2011 to secretly tape his colleagues in 2011 with a microphone hidden in a fob attached to his key ring. At the time he was the second highest official in Fifa's North and Central American and Caribbean Federation (Concacaf), whose offices were in Trump Tower in Manhattan, and was also serving on Fifa's elite executive committee.
When is a bribe not a bribe?
"Beginning in or around 2004 and continuing through 2011, I and others on the Fifa executive committee agreed to accept bribes in conjunction with the selection of South Africa as the host nation for the 2010 World Cup," Blazer told Judge Raymond Dearie when he pleaded guilty. He added that officials also agreed to "accept bribes and kickbacks in conjunction with the broadcast and other rights to the 1996, 1998, 2000, 2002 and 2003 Gold Cups," Fifa's regional championship tournaments.
Earlier he said he also "agreed with other persons in or around 1992 to facilitate the acceptance of a bribe in conjunction with the selection of the host nation for the 1998 World Cup." Other documents in the massive Fifa corruption case say it was the Morocco bid committee that offered a $1m bribe to be chosen as the venue for the Cup that year.
The release of the information now proves embarrassing to those who insisted just days ago that there was no bribe. South Africa Sports Minister Fikile Mbalula reiterated on Wednesday 3 June that the $10m handed over was "above board," and was intended as a contribution to support football in the African diaspora in the Caribbean.
Fifa leader Sepp Blatter, who is now stepping down from his role as president of the organisation, also professed to know nothing about a bribe. "I have no $10 million," he said.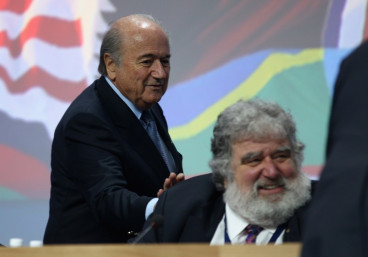 Earlier Blatter received a 10-minute standing ovation from some 400 staff members as he returned to Fifa's Zurich headquarters a day after announcing his decision to resign. Close to tears, he urged his "fantastic team" to "stay strong." He said on Tuesday that although he was re-elected president by the congress the previous week it appeared the mandate he had been given did "not seem to be supported by everybody in the world of football."
The US Justice Department charges that 14 current and former Fifa and marketing company officials accepted or paid more than $150m (£97m) in bribes and kickbacks over 24 years.
Interpol has issued a "red notice" for law enforcement to be on the lookout for two former Fifa officials and four corporate executives wanted on charges including racketeering and corruption, reports the National Post. The ex-Fifa leaders include one-time vice president and former head of CONCACAF Jack Warner. and Paraguayan Nicolás Leoz, who was previously a Fifa executive committee member.
In addition to the US case, Swiss authorities have now launched an investigation into how the 2018 and 2022 World Cups were decided.
intended to support football in the African diaspora in the Caribbean.