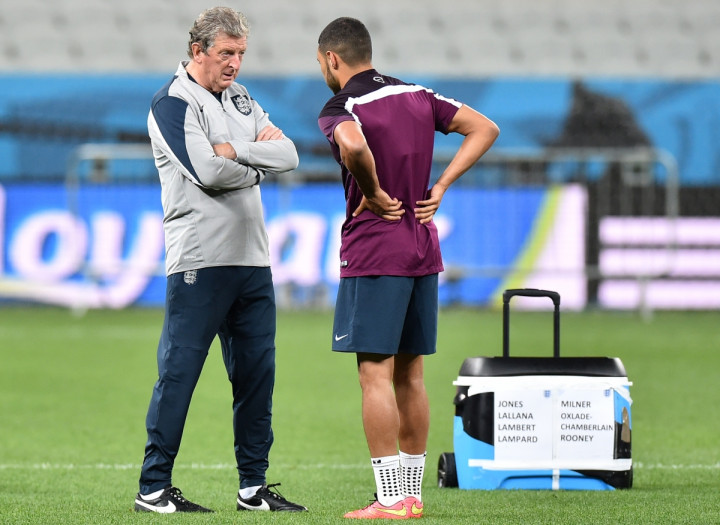 Alex Oxlade-Chamberlain will not be risked in England's decisive World Cup clash with Uruguay on Thursday, Roy Hodgson has confirmed.
The Arsenal midfielder suffered a strain of his medial ligament in his right knee in a warm up game against Ecuador just over two weeks ago and missed Saturday's defeat to Italy as a result.
Oxlade-Chamberlain has featured in training and took part in sessions without strapping to the injured knee on Wednesday but his manager believes the final group game will be the earliest possible return for the 20-year-old.
"He is not in contention but he will take part in the full training session," Hodgson said. "At the limit, we could have taken a chance with him tomorrow but it'll be better to use the four days before the Costa Rica game to train with the team.
"His injury has responded very well to treatment and I don't think we'll put him into the firing line tomorrow because he has some training sessions with the team."
Much of the build-up ahead of the match that will go some way in deciding who joins Italy in qualifying from Group D has centred on the role Wayne Rooney will play. Despite providing an excellent assist for Daniel Sturridge's strike against the Azzurri, speculation as to what position the Manchester United striker will play, should he even feature in the starting XI at all, has raged.
"I try not to comment too much on where pressure is brought to bear," Hodgson added. "I concentrate on things that are within my control, really. I only work with the group. I'm more than satisfied with Rooney's performance with Italy. It's interesting to see he ran more than any other England player, more sprints than any other England player.
"But Wayne, like Steven Gerrard, and Frank Lampard, who hasn't featured yet, are the players with 100 caps or 90-odd caps, with World Cup and European experience, so the focus is on them. You can't expect the younger players to shoulder that heavy part of the burden. Wayne is more than happy to do that. If he plays tomorrow night, you will see that in his performance."