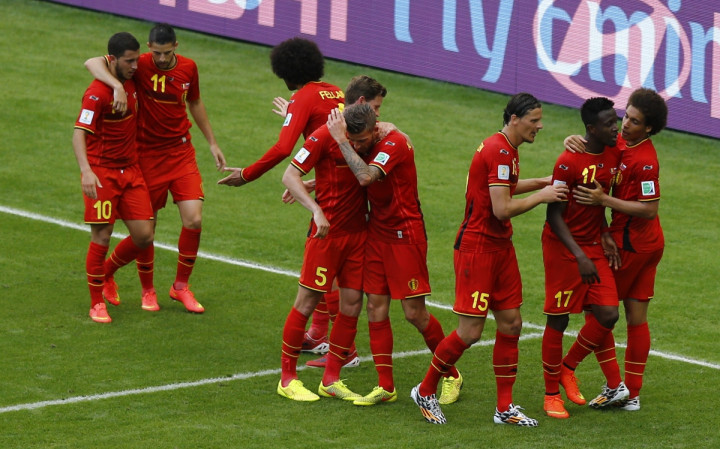 Belgium 1-0 Russia FT
Blegium qualify for the last 16 thanks to Origi's last minute goal to defeat Russia
South Korea 2-4 Algeria FT
Silmani stars as Algeria play out a convincing 4-2 win over South Korea
USA v Portugal 23:00 KO
Click here to know predictions, betting odds and where to watch live Netherlands vs Chile
Click here to know predictions, betting odds and where to watch live Australia vs Spain Click here to know predictions, betting odds and where to watch live Cameroon vs Brazil
9:55pm: Stick with us for the upcoming match between USA and Portugal, where Cristiano Ronaldo will look to repair his reputation after a disappointing performance against Germany - and America aim to take top spot in Group G.
9:53pm: And that's a wrap! Algeria are very much still in the mix for qualification to the last 16, going to second place in Group H. Meanwhile South Korea, who put up a tough fight despite going 3-0 down in the first half, still have a slim chance of going through.
9:51pm: Into the final minutes and Algeria look set to win this one, with South Korea still pushing but running out of breath in the heat.
9:49pm: Meanwhile the team sheets are out for Portugal and USA and are as follows:
USA starting XI: Howard, Bradley, Besler, Beasley, Dempsey, Bedoya, Jones, Beckerman, Zusi, Cameron, Johnson
Portugal starting XI: Beto, Bruno Alves, Veloso, Ronaldo, Moutinho, Costa, Meireles, Nani, A. Almeida, Pereira, Postiga
9:43pm: This continues to be end-to-end stuff, with Algeria attempting some time wasting tactics to get closer tot he final whistle. Silmani is still the target man for Algeria while South Korea now have four shots on target.
9:35pm: Mehdi Lacen replaces Algeria goalscorer Yacine Brahimi and both sides will be considering their subs carefully as the heat sets in. South Korea look to have come to life once more but it might not be enough time to peel back two and possibly win with three.
9:31pm: GOAL! Koo Ja-cheol takes South Korea back within two goals of Algeria. This is turning into a goal-fest!
9:28pm: Yellow cards being handed out like hot dinners at the moment, with both Algeria's Bougherra and South Korea's Han receiving punishment from the ref for reckless tackles.
9:26pm: South Korea have looked much better in this half, but when Algeria come to life there'll be no beating them tonight. Algeria's 4 goals have come from 5 shots on target, while South Korea have registered just 3 and all in this half.
9:20pm:GOAL! Algeria get one on the break to take their lead back to three goals. Yacine Brahimi takes advantage of yet another slow reaction from South Korea's defensive line to shoot straight at the net from the centre of the box. And again it looks like Algeria have got this.
9:13pm: Kim Shin-Wook replaces Park Chu-Young for South Korea.
9:12pm: Lee Yong is booked for a challenge on Djamel Mesbah. They are playing with much more urgency - whatever manager Hong Myung-bo said, it's working!
9:11pm: South Korea are giving this a real go, with the side coming close to scoring another very quickly but it's ruled offside. Could have ourselves a game again!
9:08pm: GOAL! South Korea in the mix already and peel one back thanks to Heung Min-Son, who capitalises on a mistake from Madjid Bougherra to shoot straight past the keeper.
9:03pm: And we're back! Algeria have been positively wonderful to watch in this match, a far cry from their performance in the infamous England draw in 2010. Can they keep it up?
8:48pm: And that's a wrap on the first half! We'll be back soon as South Korea look to get back some dignity after that thrashing.
8:46pm: This game has been a mixture so far of lovely stuff from Algeria and shocking defending from South Korea, their centrebacks especially. Silmani is still peppering the goal with shots, missing with a header from the centre of the box.
8:38pm: GOAL! Algeria go 3-0 up against South Korea courtesy of Djabou. Silmani was once again the star in that goal, moving through the shocked South Korean defenders before passing to his teammate in a spot that you couldn't miss from. Algeria are still very much in this World Cup it seems.
8:36pm: According to Squawka Football,
This is the first time Algeria have scored twice in a World Cup Finals match since 1982 (3-2, v Chile).
8:32pm: Algeria fans will be very happy with that and their side can now move into the top two should they hold on for the win. South Korea have looked like the second side tonight and they've been made to pay for it twice in quick succession.
8:29pm: GOAL! Algeria are up 2-0 within minutes as Rafik Halliche heads the ball in from a corner. South Korea will find it hard to come back from this.
8:27pm: GOAL! Algeria go up 1-0 against South Korea thanks to Islam Slimani, who did well to get past two defenders and slot past the keeper. That one was coming.
8:24pm: Not a great deal happening with Algeria still looking the better side. They've now had seven shots on goal, you'd think one will be going in soon.
8:16pm: South Korea are getting into it, but Algeria's defence look as solid as their attacks. It's going to be hard to break through by the looks of it.
8:10pm: More good stuff from Algeria who currently have 70% possession and three shots on goal. Islam Salmini has a chance with a header from the centre of the box and it's oh so close. The side are certainly on the attack...
8:05pm: Algeria are already going for goal and Aissa Mandi misses an attempt along with Sofiane Feghouli. It's already looking more interesting than Belgium v Russia!
8:00pm: And we have kick-off!
7:50pm: Ten minutes until kick off and the players are on the pitch and getting ready. Belgium are now though but there's one place up for grabs in Group H to qualify for the next round and both Algeria and South Korea can get a handle on it with a win tonight.
7:15pm: This is the first time South Korea and Algeria meet, with the former hoping to get their first 2014 World Cup win while the latter will be out of the mix for a final 16 place with a defeat.
7:00pm: Starting line-ups for South Korea v Algeria:
South Korea: S R Jung, S Y Yun, Y G Kim, H M Son, C Y Park, Y Lee, J C Koo, K Y Han, S Y Ki, C Y Lee, J H Hong
Algeria: Mbolhi, Bouguerra, Halliche, Mesbah, Feghouli, Brahimi, Medjani, Slimani, Bentaleb, Djabou, Mandi
6:55pm: Join us soon for South Korea v Algeria, where Russia will find out what they have to do to qualify for the next round after a disappointing result against Belgium.
6:52pm: And that's a wrap! Belgium take a 1-0 win over Russia in what can be described as one of the less interesting games of the World Cup so far.
6:50pm: Extra time now, and Russia are still lacking that cutting edge in the final third.
6:48pm: Russia change it up in the hopes of equalising with Samedov off for Kerzhakov.
6:46pm: GOAL! Belgium have scored! Origi gets past three defenders and the keeper with his shot to prove to be a brilliant sub for Belgium. Credit to Eden Hazard for getting the ball into the area at the right time, he's been quiet this match but showed his strength at the end.
6:45pm: Belgium still have no shots on target this match but the side come so close it's almost criminal that they miss after Mirallas hits the post.
6:41pm: Russia look to commit handball and the ref sees it, giving Belgium a free kick in front of goal. Mirallas' kick is close but Akinveef goes the right way and knocks it clear. Meanwhile Shatov is off for Dzagoev for Russia.
6:39pm: Origi has had somewhat of an impact since coming on for Belgium and he's ruled offside after going for goal with a pass from Fellaini. Belgium are starting to attack more now but Russia are equally getting more organised and working harder for the ball.
6:33pm: Kevin Mirallas is on for Belgium as the side look to change it up a bit, with Mertens coming off.
6:31pm: Toby Alderwiereld receives a yellow card for his tackl eon Kanunnikov and the crowd start chanting 'second division' as Mexican waves resound around the stadium. Over on Twitter, many are expressing a lack of surprise at Fabio Capello going for a draw, with the game a lot like England and Algeria in 2010. It's the sequel we never wanted!
6:27pm: To say this game is one of the less entertaining of the World Cup so far... that would be a nice way of putting it.
6:21pm: Russia make a change with Kozlov off for Eschenko.
6:18pm: Belgium have a penalty call as Origi goes down in the box after a challenge from Ignashevic, but the ref waves it away.
6:15pm: Interesting move from Belgium - Lukaku, who has looked asleep most of the time during this match, is taken off for Origi. Change desperately needed in this side as they fail to create anything.
6:13pm: More action for Witsel as he receives a yellow card for a rough tackle on Shatov. Possession is equal for both sides now and still no real chances in this half.
6:08pm: Alex Witsel looks to pick up a shoulder injury after clashing with Kanunnikov but walks it off with the Belgian medical team. Not much else has happened so far...
6:03pm: And we're back! Can Russia finally get one of their shots to go in? Or will Belgium find more organisation in their defence and get oen up on the Group H hopefuls?
5:47pm: And that's a wrap on the first half! We'll be back soon with more on Belgium and Russia's fight for supremecy in Group H.
5:46pm: Russia pick up the pace in the final minutes and Fayzulin has a brilliant chance after his side get a corner but it's over the bar.
5:41pm: Yellow card handed to Glushakov for his tackle on Mertens.
5:40pm: Three shots on goal for Belgium but none on target while Russia have three on target. The game looks open but the chances haven't been particularly good quality apart from one or two. Coming into the final five minutes of this half...
5:32pm: Belgium replace Vermaelen with Vertonghen, and the former isn't too happy about it. It's reportedly due to an injury concern over his knee.
5:32pm: According to OptaJoe,
Russia have only kept one clean sheet in their last seven World Cup games (v Tunisia, 2002). Susceptible."

5:28pm: Alderwiereld might be attacking well for Belgium but his defence is on the borderline at the moment with the Atletico man nearly giving away a penalty. The ref misses his tackle on Kanunnikov though and he gets away with it.
5:23pm: Mertens is looking particularly good for Belgium right now, leading the attacking department as the side make a lively start. Russia's more defensive style of play might not hold out for too much longer with Akinfeev being put to work.
5:18pm: Belgium are having the majority of the ball so far with 66% possession but Russia have been the only ones with a real shot in the game so far, courtesy of Fayzulin.
5:13pm: Russia in with a huge chance, and Courtois is called to action to make his first big save of the game. Their proceeding corner is... disappointing. It rolls along the ground and straight into Belgium's feet.
5:10pm: Russia are loooking dangerous on the counter but Belgium are also setting themselves up as a predominately attacking side for this game - and with the likes of Hazard and Lukaku they should be. Toby Alderwiereld is getting in on the action, passing to Dries Mertens but the Belgian couldn't make a successful shot of it.
5:04pm: Russia already have a shot on goal thanks to Maksim Kanunnikov and the side look like they mean business so far.
5:01pm: And we have kick-off!
4:55pm: The players are out and have their hands on their hearts as the anthems are played. Russia only got small things wrong in the last game and should they play at their best - the side that shocked Portugal by qualifying for the World Cup automatically - they could prove tough for Belgium.
4:45pm: Russia are currently second in Group H after drawing their first match with South Korea. Fabio Capello will be keen to take top spot in the draw with a tough last 16 match with a team from Group G. Belgium, meanwhile, have been dubbed the team to watch for most neutrals with a squad full of up-and-coming stars and made a positive start to their campaign with a 2-1 win over Algeria.
4:35pm: Team line-ups for Belgium v Russia:
Belgium starting XI: Courtois, Alderweireld, Van Buyten, Kompany, Vermaelen, Witsel, Fellaini, De Bruyne, Mertens, Hazard, Lukaku.
Russia starting XI: Akinfeev, Kozlov, Ignashevich, Kanunnikov, Glushakov, Kokorin, Berezutskiy (c), Shatov, Samedov, Fayzulin, Kombarov.
4:30pm: Good evening and welcome to IBTimes UK's live coverage of the 2014 World Cup. Tonight we have Belgium taking on Russia in the fight for supremecy in Group H, while South Korea and Algeria both fight to keep their hopes of progressing alive. And over in Group G, USA and Portugal look to play their second group stage game with the top two places very much open for the taking.
https://www.ibtimes.co.uk/fifa-world-cup-2014-australia-vs-spain-where-watch-live-prediction-preview-betting-odds-1453693