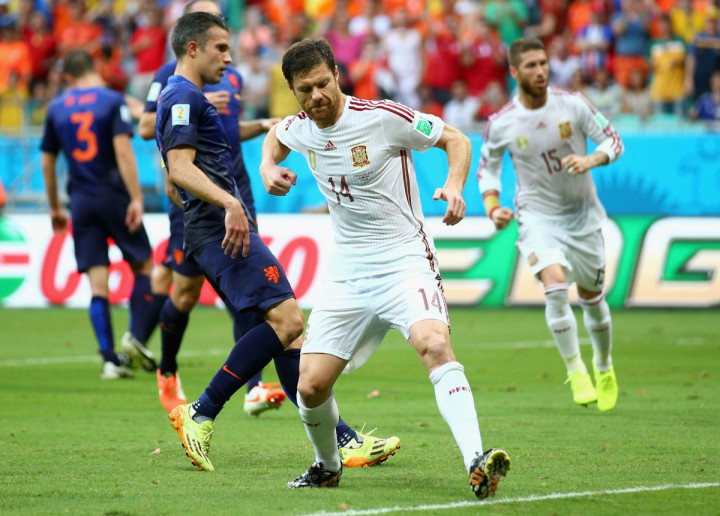 Real Madrid star Xabi Alonso has accused Spain's football stars of "lack of hunger" following their humiliating defeats against Holland and Chile in the World Cup.
The defending World Cup Champion have been the first team alongside Australia to be knocked out of the Brazil tournament, having lost 5-1 against Louis van Gaal's side and a 2 - 0 defeat to Chile.
Explaining the shock loses Xabi Alonso said: "We haven't been able to maintain our hunger and the conviction we needed to make a serious attempt at defending the trophy."
"The happiness we experienced in the past and all of the successes are over. In terms of football, we made a lot of mistakes. We've lost our way, and the ability to be ourselves out on the pitch – that was what enabled us to win so many of our games in the past. The overall mood was different this time – not like it was in other tournaments," Alonso was quoted by AS.
"That's the saddest thing. Mentally, we were not fully prepared for this World Cup and physically, we were right at the very limit. Both of those things together meant that we weren't in better conditions. We weren't at the required level and we deserve to have been knocked out".
Alonso admits that the Spanish golden era was over while urging Vicente Del Bosque or his replacement to make a complete overhaul of the national squad.
"In football, the end of an era is usually signalled by a defeat. Maybe now's the time to start thinking about making changes".
"We've met two great rivals who prepared for the games well. We didn't know how to control certain situations like we have done in previous tournaments. We didn't know how to respond after Holland levelled or tonight, after going 1-0 down to Chile".