FIFA World Cup Opening Ceremony: Pitbull's Weird Pants Trigger Hilarious Reactions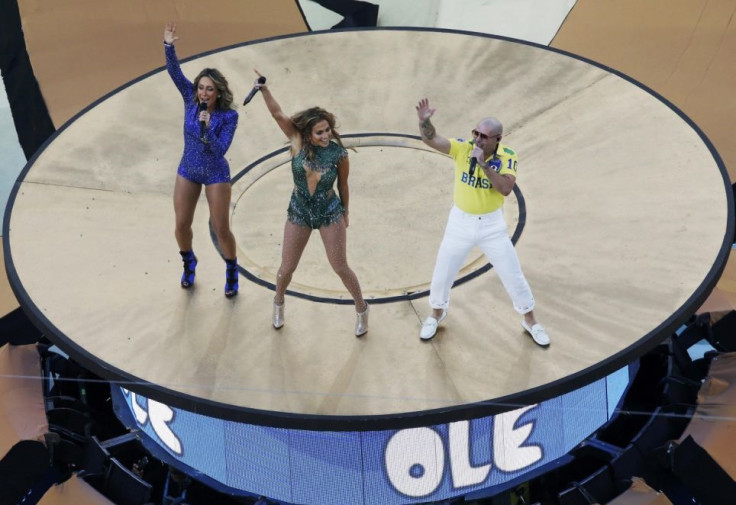 The FIFA world cup has kicked off with a colourful and vibrant opening ceremony which saw some power packed performance by rock star Jennifer Lopez and Brazilian pop sensation Claudia Leitte along with Pitbull.
The pop trio performed the world cup 2014 anther 'We are One', however this was let down by poor sound quality.
American rapper Pitbull stole the show with his "diaper pants" - probably the oddest outfit of the evening. There were comments a plenty about his choice of bright, white high-riser pantalon.
By contrast, people dressed as grass, flowers, trees and even football-human hybrids seemed par for the course.
The "Give Me Every Thing" singer's choice of trouser triggered hilarious reactions across social media websites.
"Pitbull stole JLo's pants." - for example.
Here are some similar slurs.
now i remember where i have seen those pitbull pants pic.twitter.com/Ho8dnMAwHE

— Bec (@Brocklesnitch) June 12, 2014
Wow. So no one told Pitbull someone had a go at his pants with some scissors? pic.twitter.com/7vZWTp3oO9 — Soccer Memes (@FBSoccerMemes) June 12, 2014
Where are the rest of Pitbull's pants? #WorldCup2014

— Mojak Lehoko (@mojaklehoko) June 12, 2014
But also, has anybody told Pitbull that you can get a belt to stop you from wearing your pants like gramps? — Antoinette Muller (@mspr1nt) June 12, 2014
OMG @pitbull in the tightest white capri pants I've ever seen on a man! Only #Mr305 could pull that off! #WorldCup2014

— Diana Alvear (@AlvearDiana) June 12, 2014
It's Friday the 13th, but Pitbull's pants already happened. It can't get much worse. — Joanne Lurie (@TheJoLurie) June 13, 2014
So, those pants that Pitbull wore for the opening ceremony gave new meaning to "tighty-whiteys"

— Carryn Elliott (@CarrynCe) June 13, 2014
@ThanzeemKR @missmalayalee @JLo Pitbull was the one wearing his kid's white pants. :P — The Don (@DonJoeMartin) June 13, 2014
Why #Pitbull had his pants climbing up his neck? #FML

— Sir 015 (@obhenss) June 13, 2014
Pitbull at the opening ceremony of the World Cup was channeling Jimmy Fallon's 'Tight Pants' routine pic.twitter.com/HnPhtbKcO7 — Juanzilla (@JuanElway) June 13, 2014
© Copyright IBTimes 2023. All rights reserved.