Fifty Shades Darker is scheduled to reach cinemas in both the UK and US tomorrow (10 February) and rather unsurprisingly – given how well the first movie went down with critics – the film has been met with generally negative reviews so far. However, most have been quick to say that leads Jamie Dornan and Dakota Johnson try their best to elevate the movie despite its weak material.
There's also praise dotted about for the film's slick visuals and its soundtrack, which features tracks from Sia, John Legend and a duet from Taylor Swift and Zayn Malik. Writers also admitted that the eagerly-anticipated follow-up will likely please fans of the original.
Based on the second novel of the same name by EL James, Fifty Shades Darker sees billionaire Christian Grey (Dornan) desperately try to get Anastasia back after their seemingly-final break-up at the end of the last film. Before long, his romantic gestures eventually win the object of his affection over but when his past flames start questioning their relationship and putting doubts in Ana's head, their future together becomes more fragile than ever.
So where did it all go wrong? Here's what the critics said about the James Foley-directed instalment...
The Age: "For supposed trash, Fifty Shades Darker offers a fair amount to ponder."
Variety: "Erotic schlockbuster lacks its predecessor's surprising, feminine sass, but succeeds on its most superficial terms."
"We care not a lick for these beautiful people, nor for their future together. Yet to find yourself rooting for their union purely because they're both so damn hot is to realize that Fifty Shades Darker has worked its shallow magic on you."
Deadline: "Fifty Shades Darker manages to be a sequel that tops its predecessor simply by not taking itself very seriously and providing what the customers are there for: a good, inventive sex scene every 10 or 15 minutes."
The Independent: "Plot wise, the film is utterly threadbare and the sex scenes, which are fairly graphic at times, are always accompanied by syrupy rock music."
The Conversation: "Fifty Shades Darker is not an aspirational story for women. Mr Grey is no Romeo. He is the antithesis of a desirable role model for men."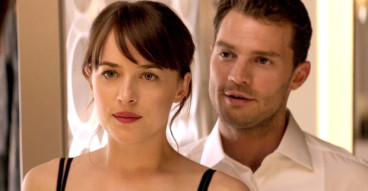 Herald Sun: "Only Donald Trump is more shameless when it comes to the 24/7 flaunting of great wealth and poor taste."

Hollywood Reporter: "Blindfolds and tasteful wrist restraints are just this year's superficial twist on the Cinderella story. Fifty Shades may take pains not to let Anastasia actually accept anything as gauche as cash for the body she hands over so willingly to her Prince, as Julia Roberts did in Pretty Woman. But it's hard to pretend this represents any meaningful step toward a future feminists can be proud of."
The Wrap: "Why should adult female audiences be deprived a vicarious shot at career advancement, gorgeous lingerie and a billionaire underwear model? However, if you think that those same audiences also deserve characters with any depth and plotting that relies upon the presence of multi-dimensional human beings, Fifty Shades Darker falls short.
"It's nice that the two photogenic leads are treating sex like a pleasurable activity rather than an onerous chore in this second entry, but overall, the film plays like an un-asked-for collaboration between the Hallmark and Playboy Channels."