Pirates of the Caribbean 5: Orlando Bloom returns as Will Turner in Dead Men Tell No Tales trailer
Will Turner was last seen in At World's End, where he returns to the shore to meet his wife and young son.

The Super Bowl trailer for Pirates of the Caribbean 5: Dead Men Tell No Tales is out and much to fans delight, it has introduced one fan-favourite character whose first look in the film has been under the wraps. Orlando Bloom is back as Will Turner and it appears he will have a key role in the latest adventure that is set to unfold in the fifth sequel.
In the third sequel, At World's End (released in 2007), Will Turner was resurrected by Bootstrap and the rest of the Flying Dutchman crew after he was killed by Davy Jones.
Bloom's character was bound to escort souls lost at sea to the next world for ten years but before departing, he consummated his wedding with Elizabeth (played by Keira Knightley).
The end credit scene of the film jumped 10 years ahead and showed Turner returning to the shore to meet his wife and young son who are eagerly waiting for him. However, Bloom's appearance in Dead Man Tells No Tales has worried his fans as it appears Turner is slowly mutating.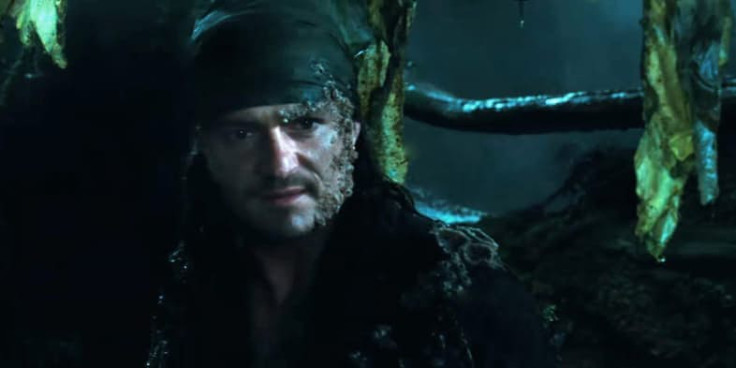 In the previous film, Davy Jones was in charge of the ghost ship Flying Dutchman and was ferrying souls of men who died at sea. But after being heartbroken in love, he abandoned his duties and became a tyrant. He and his crew members were turned into sea monsters for deviating from their duties.
Soon after Davy's death, Turner took the charge and was fulfilling his duties at least until the last film's post-credit scene. But his mutation has sparked speculations that the greed of ruling the sea might have overpowered his heart and is slowly changing his appearance.
The fifth movie of Disney's super hit franchise is set to explore the adventures of Captain Jack Sparrow (Johnny Depp) as he is being chased by Captain Salazer (Javier Bardem) who has escaped the Devil's Triangle and now vows to kill every pirate on the sea.
Jack, who is helming the ragged ship Dying Gull, has been hit by ill fate and needs the legendary Trident of Poseidon to reverse his fate.
Pirates Of The Caribbean: Dead Men Tell No Tales also stars Kevin R McNally as Joshamee Gibbs, Golshifteh Farahani as the sea-witch Shansa, David Wenham as Scarfield, Stephen Graham as Scrum, and Geoffrey Rush as Captain Hector Barbossa. Directed by Norwegian filmmakers Espen Sandberg and Joachim Rønning, the film will premiere on 26 May 2017.
© Copyright IBTimes 2023. All rights reserved.