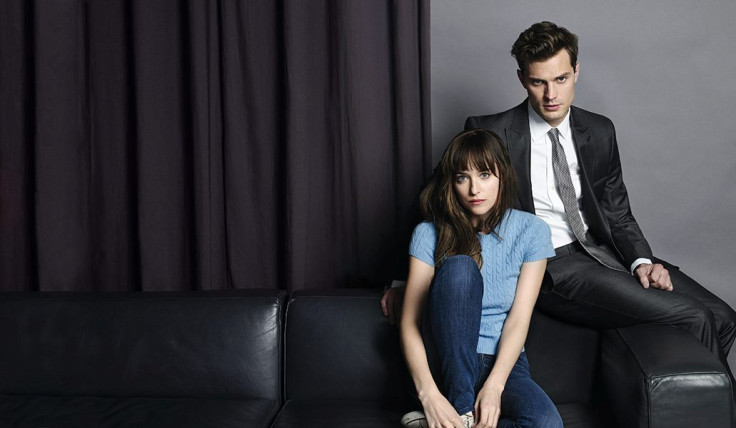 Fifty Shades of Grey's Jamie Dornan doesn't believe that his upcoming BDSM theme movie is anti-feminist.
Dornan, who plays the iconic character of the sexy billionaire entrepreneur Christian Grey in the movie, claims that the much anticipated movie is not misogynistic and that men are more submissive than women.
"I can understand why people say tying a woman up and spanking her is misogynistic... But actually, more men are submissive than women. Very powerful men," the Irish actor told the Elle UK.
"It's a far bigger scene than I imagined: in pretty much any city in the world that you could name, people want to get spanked with a paddle with studs on it."
In December, Dornan revealed that he had to visit sex dungeons in order to prepare himself for his erotic character in the dominant and submissive themed movie.
"I went there, they offered me a beer, and they did...whatever they were into. I saw a dominant with one of his two submissives, and he became our kink adviser on the film... I was like: 'Come on guys I know I'm not paying for this but I am expecting a show," the Irish actor told Elle Magazine.
Fifty Shades of Grey is a movie adaptation of the bestselling novel written by E L James and the movie offers a sexy glimpse into the sadomasochistic world of the dashing and successful entrepreneur Christian Grey, who is smitten by the naive college student Anastasia Steele.
Their love grows slowly with each of their kinky sexual encounters which also involve a dominant and submissive relationship.
The 32-year-old actor further claims that the movie is a love story between two completely opposite characters.
"The love story is more important than the BDSM aspect. I mean, we are going to tell a love story, you know, it can't just be what happens in the Red Room, that's not a film. There's so much more going on than that," he said.
Fans can get a chance to see the controversial 'Red room of pain' as described by Ana in the novel when the BDSM-based movie premieres on Valentine's Day this year.
The movie is directed by Sam Taylor-Johnson and Dakota Johnson lead stars in the movie along with Dornan.