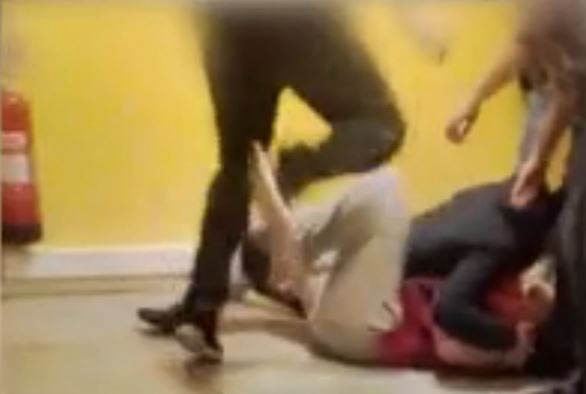 Footage obtained by a Swedish radio station has shown scenes of violence inside a residence for unaccompanied refugee children in the south of the country. Both staff and refugees in the home can be seen facing off and screaming expletive-ridden rants at one another.
"The police will come," a grown man, apparently a social worker, shouts at the group of roughly a dozen young men at the start of the video, before screaming "you are all f***ing pigs".
The exchange appears to happen in the middle of an already violent incident; an upturned table is pushed up against a wall. Social workers reported at one point they had to lock themselves in their rooms to avoid the fighting.
"Fight me! Fight me! Fight me!" one of the young refugees bellows repeatedly as he squares off with the social workers. When he becomes more manic one of them holds him off before he falls to the floor screaming. Sobbing uncontrollably the youth writhes on the floor and for several seconds can be heard dry-retching. Shouting in various languages can be heard throughout the altercation as well as a constant stream of expletives.
Authorities in Jonköping, where the incident took place, are now investigating what happened. A spokesman for the local municipality said it was aware a conflict had arisen between workers and residents at the home. One refugee has been reported to police for assault.
News outlet thelocal.se reported claims by social workers the young man seen in the footage was the leader of the group. They said his apparent nervous breakdown was an act for the camera.
Sweden has 38,000 young, unaccompanied refugees in homes. According to the country's Health watchdog, the Scandinavian nation had 1,163 homes for unaccompanied minors in Sweden in 2015, compared to 118 in 2010.
The publication of the video comes as Sweden reels from race-related violence on its streets. Close to 100 masked men allegedly attacked immigrants in central Stockholm and threatened to beat up refugee children. The group of men, dressed in black, marched through the city centre and handed out leaflets in which they threatened to punish "north African street children roaming around the city".
Fredrik Nylén, a spokesman for Stockholm police told Swedish newspaper Aftonbladet that several men had been arrested as they could have gathered "with the purpose of attacking refugee children".