Shamed boxer Amir Khan put on a united front with his wife Faryal Makhdoom today (23 January) as the pair addressed the sex tape scandal for the first time since it was leaked.
The tape in question featured the former unified light-welterweight world champion performing a sex act while on a Skype chat to a US model, allegedly shot weeks before his wedding to Makhdoom.
Today, the 30-year-old sportsman hinted that his family may have leaked the tape in an act of revenge while discussing the scandal on This Morning to hosts Phillip Schofield and Holly Willoughby.
In a live link from San Francisco, the couple, who have daughter Lamaisah together, clarified that their marriage remains strong. They also suggested that a family member released the X-rated footage.
Makhdoom, 25, who has openly addressed her ongoing feud with husband Khan's family via Snapchat, said: "We're here to show that all the divorce rumours aren't true. We're not here to cause problems - we just want to show that our marriage is fine and we're doing well.
"But we think this happened because of what's going on. I feel like it was done by somebody close to us out of revenge," she added.
When the presenters asked for clarification on who supposedly leaked the tape, she continued: "I have no idea - it could be a jealous girlfriend passing it on or a former employee who was fired from the Amir Khan foundation. I'm not saying it's a family member, but the timing is strange - it happened now for a reason."
Quick to elucidate that the incident happened before his wedding, Khan said: "It happened a long time ago before I was married and before I became a father. It's somebody trying to put me down and dismiss all the charity work I do. It's upset me more than anything.
"There's a small sense of relief that it's all out there, but it upsets me because I have a young fanbase. But I'm not going to let it get to me - I'm using it as motivation."
Makhdoom then spoke about the online criticism the couple have faced, adding: "Being judged over something in the past is sad. Our marriage is brilliant. It's going really well and we're really strong. Our main priority is Amir's next fight. We're just shaking it all off and being happy."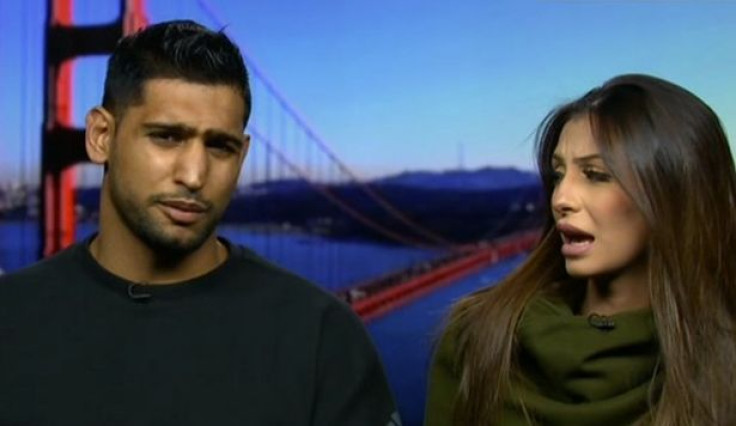 The conversation moved onto the family feud – whereby Makhdoom has claimed she has been cruelly treated by Khan's family. Khan opened up about being in the middle, stating: "It makes it very hard for me - I just want things to be back to normal. I speak to my parents now and again - things are getting better. Being in the US gives us some space to be alone.
"There's definitely common ground between us all. I go into the ring to fight for a better life for everyone. I want us to live like a happy family."
Before the televised interview, Makhdoom announced the appearance to her 112k followers on Twitter. She also uploaded a video of the interview afterwards.
She wrote: "Hey guys! @amirkingkhan and I will be on @thismorning @ITV at 10:30am UK time. Tune it to watch us".
When the sex tape was first reported earlier this month, Khan was said to be horrified.
"This is a mortifying moment for Amir," a source told The Sun. "He's a Muslim boxer and his personal life is under the microscope right now, so the timing couldn't be worse."
"There had been rumours about these videos for years, but now anyone who wants to view them on the internet for free can do so."
The footage leaked at a particularly difficult time in Khan's life as he has been embroiled in a public feud between his wife and family for the past few months.
The row between Makhdoom and Khan's family was exposed after his wife accused her husband's family of bullying her in post she shared on social media. Khan's parents then had accused Makhdoom of making up the claims.