Boxer Amir Khan accuses sick terrorists of 'twisting Islam'
The Olympic champion said he fears that the Muslim community will become the targets of hate crime.
British Muslim boxer Amir Khan has condemned the terrorists who kill innocents in the name of religion.
Appearing on ITV's Good Morning Britain the Bolton-born star shared his horror at the Manchester terror attacks and accused the terrorists of perverting his religion.
"This is totally against our religion, if these people are saying that they're doing it because of Islam, I do not believe that's true," he said. "They're twisting Islam."
The father-of-one said he fears that such attacks will incite anti-Muslim sentiment.
He told Piers Morgan and Susanna Reid: "I am Muslim and if I'm on the bus or train I don't want them pointing at me saying, 'we don't want to be on the train with you.
Expressing his concerns for his two-year-old daughter, Lamisha, he said: "It's getting worse and worse, and people will be pointing a finger at her and thinking "you're a Muslim", and [terrorists] give all Muslims a bad name."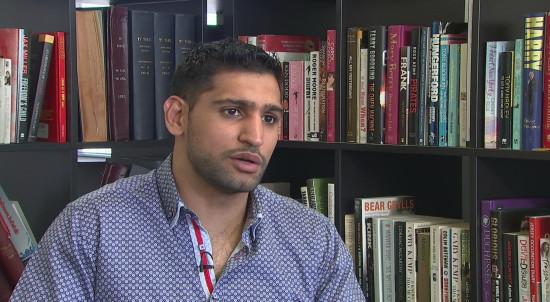 Boxer Amir Khan
According to Mail Online, Khan called on the Muslim community to play an active role in the fight against terrorism.
"If you know information please go out there and report it," he said. "I think Muslims all have to stick together, in all different religions there is always good and bad – killing innocent people is not in the Koran, we all should stick together."
On Monday, 22 people were killed and 64 injured after a suicide bomber detonated a device as people left singer Ariana Grande's Dangerous Woman show in the 21,000-seater Manchester Arena.
Salman Abedi killed 22 people, some of them children, when he detonated a bomb in the foyer of Manchester Arena at the singer's concert on 22 May.