Faryal Makhdoom, wife of boxer Amir Khan, has accused her husband's older sister of attacking her while heavily pregnant. In a new interview, the 25-year-old admits the public row with her in-laws is "getting crazy" but continues to detail the alleged bullying she has suffered since marrying Khan in 2013.
In a candid interview with the Mail Online, Makhdoom recalls having an argument with Khan's older sister Tabinda while expecting her first child with the former lightweight boxing champion. The cosmetics entrepreneur said of Tabinda's reported attack: "She grabbed my hair and slapped my head. I was eight months' pregnant. I told Amir but he didn't believe me because he couldn't believe me."
According to Makhdoom, Khan's brother Haroon also accused her of having plastic surgery and bearing a resemblance to Michael Jackson during her pregnancy.
The New Yorker claimed: "I was pregnant with our daughter, who's now two, at the time. Can you imagine what it was like being in the same house with him when he was saying that? I've never had plastic surgery. I've got fillers in my cheeks and my lips."
Makhdoom took to Snapchat earlier in December to publicly accuse Khan's siblings and mother Falek including father Shah of mistreating her. Although the boxer's parents have denied the accusations, Makhdoom has continued to tell her side of the story through social media, prompting Khan to intervene. In an attempt to settle the feud, the boxer tweeted: "This is getting to the point where they will lose a son and a husband."
Admitting that the tension has left Khan, 30, in a difficult position, Makhdoom said in the interview: "It is getting crazy. We all look stupid. For Amir this is really hard because it's the love of his life and the mother of his child fighting with his mum, dad and siblings. Obviously he's not happy. He said: 'You should have controlled yourself'. But this was an anger that's built up over the years. I'm not just blaming the mum and dad, I'm blaming the siblings."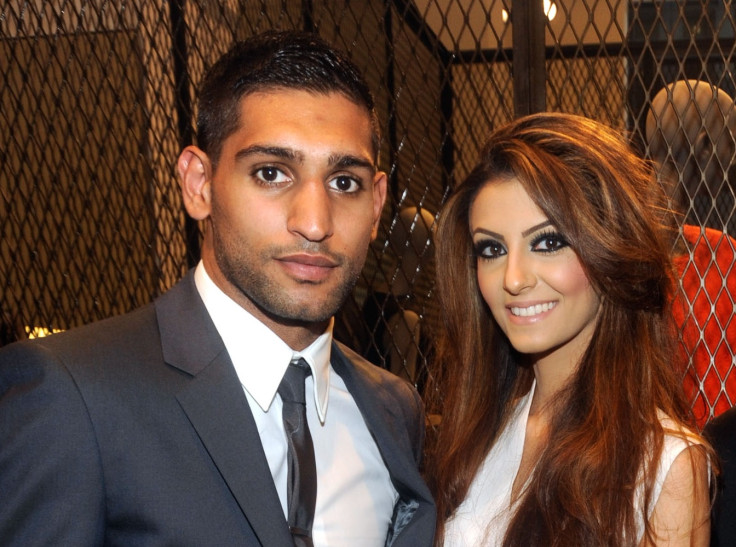 She added: "But Amir picked me because he fell in love with me. I was the first outsider, and asking me to marry him was the first big decision he made for himself. I think there was jealousy."
Khan and Makhdoom married in May 2013 at New York's Waldorf Astoria in front of 250 guests before hosting a second reception in Bolton. The couple's first child, daughter Lamaisah, was born in May 2014.