Amir Khan splits from wife Faryal Makhdoom, claims she is seeing rival boxer Anthony Joshua
The feud between the boxing champ and his wife's family made headlines earlier this year.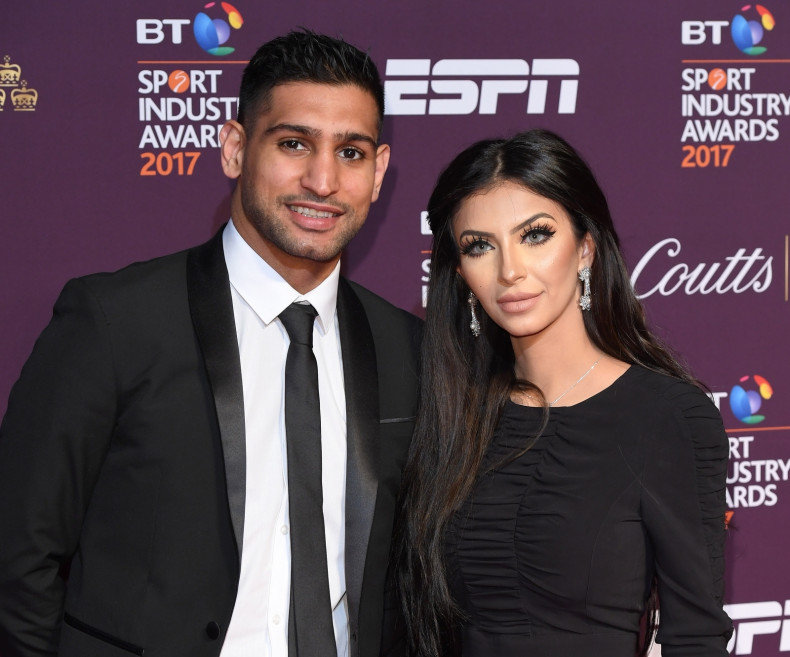 British boxing champ Amir Khan has split from his wife of four years Faryal Makhdoom, just months after the couple's family feud made headlines across the globe.
Taking to Twitter on Friday (4 August) the Bolton-born sportsman, who is worth an estimated £23m ($30m), claimed in a series of posts that they had separated and alleged that she had already moved on with fellow boxer, Anthony Joshua.
"So me and the wife Faryal have agreed to split. I'm currently in Dubai. Wish her all the best," he told his 2 million followers.
Khan went on to share a screen shot of a Snapchat conversation between two people arranging a rendezvous, along with the caption: "Faryal moved on quick. Always mentioned to me how much she wanted to be with another guy, from all people another boxer @anthonyfjoshua."
He continued to vent on the social media platform writing: "Left my family and friends for this Faryal. I'm not hurt but another fighter. I'm making it public. You getting the divorce #Golddigger"
"Mans like Joshua can have my left overs!" he added.
The drama quickly escalated with Makhdoom hitting back on Twitter urging him to "man up" and stop spreading lies saying: "I'm not sure if it's your family tweeting for you. But I'm not the one who been in the papers for cheating."
The Pakistani-American beauty, who celebrated her 26th birthday in July, went on to tell him to stop using her and British heavyweight champ Joshua as a scapegoat for his failings. "I'm sure you left your family because they robbed you? Not because of me. Stop making false things up."
The model added: "Accusing other boxers just because your boxing career is finished. Man up Amir."
She also accused him of infidelity writing: "After all these years. I've always defending a cheat, always stuck around for him, always had his back. And I'm called a gold digger?"
IBTimes UK has reached out to Khan's representatives for comment.
Back in December, Khan's family life was thrust into the spotlight when his wife Makhdoom, accused in-laws of years of mental and physical bullying in a series of Snapchat posts, claiming that "jealousy" prevented them from fully embracing her as his wife.
Khan's parents slammed the claimed in an interview, saying they had treated Makhdoom "as our own daughter" and that the only thing that irked them was the way she chose to dress.
He eventually vented his anger in a scathing message directed at his warring family members. "My parents are my parents and my wife is my wife. Whatever misunderstanding has happened they should keep it private," he wrote on Twitter, adding: "This is getting to the point where they will lose a son & a husband. Childish behaviour. Both parties need to stop this."
The couple, who got married in 2013, are proud parents to their three-year-old daughter Lamaisah and have been extensively involved in working with orphaned children across the world. As a part of the initiatives for the Amir Khan foundation, the boxer has even chalked out plans for orphanages in Pakistan.