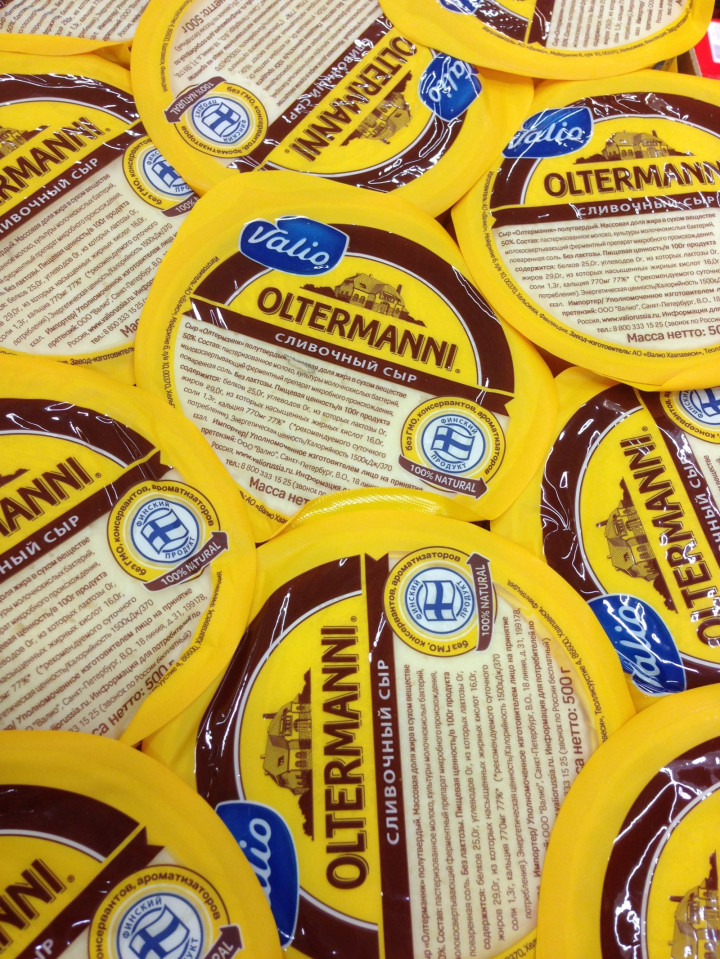 Finnish shops are being flooded with various food products that were destined for Russia as sanctions have prevented exporters from selling goods to their key trading partner.
Locals are currently enjoying a glut of 'Putin Cheese' – Finnish cheese with Russian text on the packaging that was intended to be sold in the overseas market- at extremely low prices.
The cheese in Finland is called Oltermanni and is a household name as it is one of the most popular national cheeses.
"Finland is going mental with the sanctions. Shops are full of stuff that were supposed to be exported to Russia. They are selling it all at rock bottom prices," said one local, who spoke to IBTimes UK.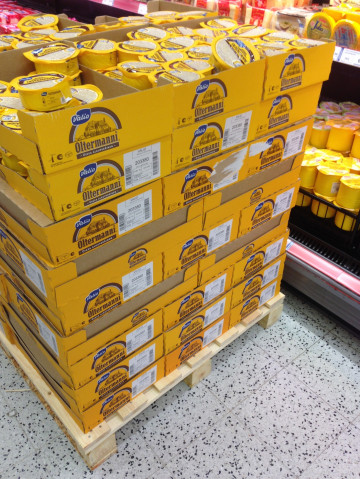 "The price difference is huge. The one meant to be sold in Finland is €7 per kilo as the Putin Cheese is selling now being sold for €4.40 per kilo. 'Putin Cheese', the cheese with the Russian text is exactly the same cheese as the Original Finnish Cheese. Same company, same packaging. The only difference is, is that these were the products for export, and therefore have Russian text."
"Obviously the Finns are lapping it up. I got elbowed by the natives as everyone was grabbing the cheese."
However, another local who said there could be perceivably not a 'flood' of 'Putin goods', is because those items have quickly sold out.
"The bigger market just down the road Prisma, which sells food, clothing, electronics, does have the surplus items, but the local S-Market, which sells solely food doesn't. Based on my personal experience, Fins love a bargain. So the surplus items are popular at the moment, " said the other shopper to IBTimes UK.
Another Finnish local added "I would have bought some 'Putin cheese' but it was all sold out."
Appetite for other 'Putin Products' have gathered pace as Finnish supermarket S-Group said that unsalted butter, originally destined for Russia, would be available at super low prices.
Within moments of S-Group's director of assortments and pricing's announcement, the supermarket's website crashed, due to being flooded by demand.
Finland and Russia
Russia is Finland's third-biggest export market and accounts for around 10% of Finland's foreign sales.
According to Finland's chamber of commerce, nearly half of Finland's companies are suffering as a result of the economic sanctions that the EU and Russia have imposed on each other.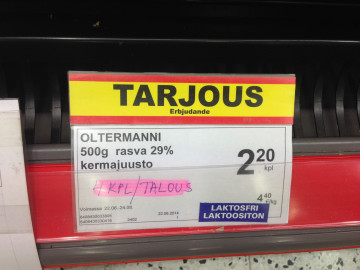 The survey of 2, 676 managers from a range of large and small firms revealed that 41% of companies said their business was being affected indirectly by the sanctions, while 6% said they were suffering directly.
However, half of respondents backed the EU sanctions against Russia, while 16% said they approved tougher measures against Moscow.
Sanctions Weigh Heavily on EU
On 18 August, official data from the European Union (EU) revealed that Eurozone's exports to Russia fell by 14% in the five months to June.
For the wider EU, including data from the UK, the decline was less marked, but still significant at 12%.
On 21 August, new research from Dutch bank ING warned that the EU could lose €6.7bn ($9bn, £5.4bn) in annual production, equating to 130,000 job losses, should Russia uphold its sanctions on European fresh produce.
ING added that Germany stands to take the biggest production losses, Poland the most job losses and the Baltic states would take the biggest hit, relative to the size of their economies.