Chinese authorities are pushing to shut down privately owned coal-fired steel factories scattered across rural areas in an effort to meet carbon dioxide emissions targets. However, many factory owners say they pay informal "fines" to local inspectors and then re-open. Award-winning Getty Images photojournalist Kevin Frayer visited one of these unauthorised steel plants in Inner Mongolia.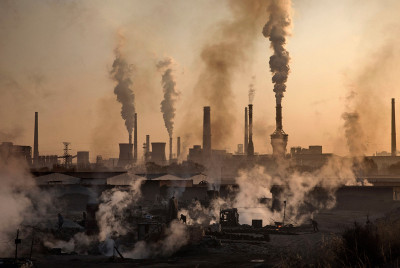 China, which accounts for almost 30 per cent of global carbon pollution, pledged to peak its emissions around 2030 as part of the climate pact adopted in Paris last year. Many analysts say China's peak is likely to come much earlier – and may already have occurred. Environmental officials in Beijing said that a key indicator of poor air quality – the density of the particulate matter PM2.5 – decreased in the first 10 months of 2016 year-on-year.
The environmental campaign group Greenpeace East Asia reported that levels of the heavy metals arsenic, cadmium and lead in the PM2.5 in Beijing had fallen rapidly since 2013. It said the decline was directly linked to the closure of coal-fired power plants around the city.
US president-elect Donald Trump has sent mixed signals about whether he will withdraw from commitments to curb greenhouse gases that, according to scientists, are causing the earth's temperature to rise. Trump once declared that the concept of global warming was "created" by China in order to hurt US manufacturing. With the future of US support for the 2015 Paris Agreement on climate change in question, China is poised as an unlikely leader in the international effort against climate change.
China's leadership has stated that any change in US climate policy will not affect its commitment to implement the climate action plan. While the world's biggest polluter, China is also a global leader in establishing renewable energy sources such as wind and solar power.