Thousands of people have been forced to leave Moria refugee camp on the Greek island of Lesbos, following a fire which tore through the area on Monday (19 September). Although it was not clear what caused the blaze, reports by Greek media suggest that clashes broke out beforehand, in which the fire was started deliberately.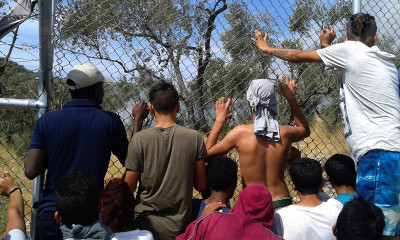 Those living at the Moria camp have expressed concerns that their asylum claims will be rejected, amid growing fears that they may be deported. Greek media said that this is what caused the violence to erupt, which resulted in riot police being called to the camp. There have been no reports of any injuries. According to the Associated Press, nine people were arrested on suspicion of starting the fire, which happened towards the ends of the protests.
Families with young children hastily packed up their belongings and fled to nearby fields as the fire raged on. Many were later given shelter at volunteer-run camps. Speaking to Reuters, a man, who wished to remain anonymous said: "We are refugees here, we are all in the same situation... the situation of every country is bad, we know that. We have to respect ourselves, we have to give the respect and take the respect, but there are those.. that just want to fight."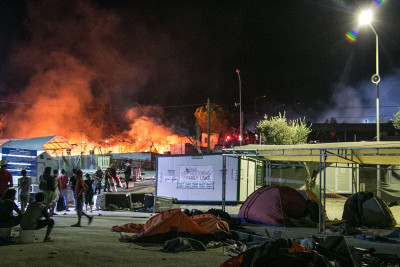 Photographs taken the following day (20 September) show the sheer destruction of the damage caused. Residents could be seen wandering through the ashes and remains of tents, trailers and containers in which they once lived.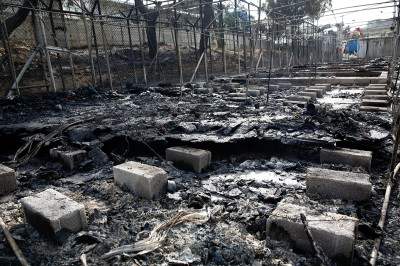 The government is expected to charter passenger ferries to provide temporary accommodation, and to increase the police presence on the five islands where refugees are being held. Authorities on Lesbos are now calling for the immediate evacuation of the some 4,000 people who were living in the camp when the fire started.
More than 60,000 people are stranded in transit in Greece, and those who arrived after 20 March have been restricted to five Aegean islands under a European Union-brokered deal to deport them back to Turkey. However, the agreement has been fraught with delays. More than 5,700 refugees are on Lesbos, stranded there by a European Union deal with Turkey preventing them going beyond the island until their asylum claims are processed.