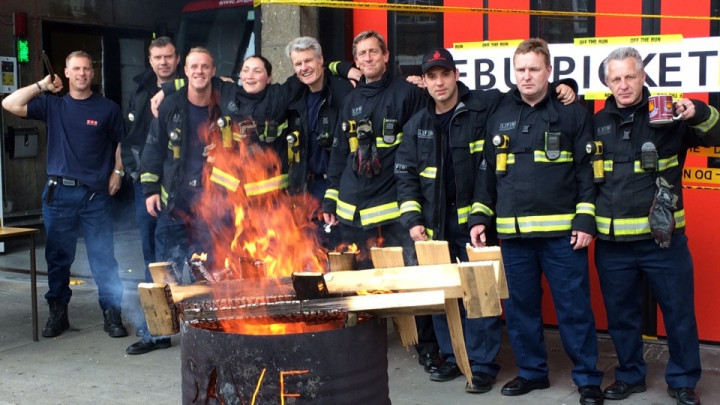 Firefighters in England and Wales have called a series of strikes in the latest round of long-running dispute with the Government about pensions and length of service.
Members of the Fire Brigades Union will go on strike at noon on Saturday for two hours, then for a further hour at 22:59 BST. The will also hold strikes at the same times every day until 16 August.
The government has accused the FBU of an illogical approach to pensions negotiations. But the union, which represents 44,000 firefighters in the UK, accused the Government of walking away from talks after the new fire minister cancelled a planned meeting.
They said they had been due to meet Penny Mordaunt, the under-secretary of state for communities and local government, on Thursday. But the meeting was cancelled, prompting FBU assistant general secretary Andy Dark to accuse Ms Mordaunt of "scuppering an opportunity to find a solution".
Firefighters have already held walkouts over ministers' plans to raise their retirement age from 55 to 60 and increase their pension contributions, with the first taking place last September.
The FBU says it fears many members in their late 50s could fail the fitness tests and have to leave the service as a result. It also said proposals would mean that if firefighters opted for early retirement, the reduction in their pension would be unacceptably high. But the Government says the deal on offer is fair.
Mr Dark said: "Government proposals as they stand include a number of unacceptable elements including firefighters being forced to work until 60 – an age at which the enormous physical demands of the job are beyond most of us. Both sides have identified that there are possible solutions to these issues but the Government is unwilling to amends its proposals.
"Firefighters hate striking. We believe that Winston Churchill was right to say 'Jaw-jaw is always better than war-war.' That is why we are astounded by the cancellation of the last-minute talks by Ms Mordaunt on Thursday. It is a bitter disappointment that she cancelled them and made this series of strikes inevitable."
Fire brigades will put contingency plans in place during the industrial action, including the use of contract staff, but fewer fire engines will be available. The public are being urged to take extra care and follow fire safety guidelines.
Firefighters tweet their support for the strikes